It is Rural Luxury season and with this very new blog series we want to give you a sneak peak into the lives of our Andalusian heroes. We have always written about what it must be like to work on an equestrian farm, or to pick the grapes from the vines on your plot. We have taken you on a journey where you could imagine what it would be like to enjoy a Spanish breakfast with olive oil from your very own olive grove. But how does this translate into reality? The project A Day in the Life of was set up with the purpose of understanding from a first-person perspective what it is like to actually live the Andalusian Lifestyle that we, at Villas & Fincas, always talk about. What it is like to live the Andalusian dream? Find out today. 
Today we are getting a sneak peak of a day in the life of ecological farmers in Ronda, Andalusia, Spain. Brigitte & Philippe Poincloux from Finca Portier tell us all the ins and outs about their journey. Why did they move to Andalusia? What were the challenges and how did they overcome them? What are their biggest achievements? Favourite memories? During the interview I felt inspired when listening to their story. It is an absolute honour to share their journey with you today. I hope that, by watching this video of their experience, you may be inspired and your horizon be widened, like it has done for me. 
An inspiring story
Brigitte & Philippe Poincloux were clients of ours many years ago. Initially they thought of investing in a property in South America, where they could buy a large plot of land. Due to the fact that they still have family and a whole life in France, they realised the other side of the world might be a bit too far and difficult. Hence, the choice to start a journey discovering the countryside of Andalucía. Their idea was to invest in a beautiful Andalusian country property where they could start an ecological project. They had a vision and went after it!
When the journey to find a home began, Brigitte & Philippe found V&F. We went to visit a gorgeous cortijo in Ronda, Andalucía. Philippe insisted on visiting more country properties in Andalusia, ranging from Córdoba to Sevilla. What Philippe didn't know is that Oscar already knew what property they were going to buy. Oscar had more than a gut feeling. He knew that no matter how many other country properties they would visit, the cortijo in Ronda would be theirs. And that is exactly what happened: Finca Portier became the materialisation and the reality of the vision that Brigitte and Philippe once had.
What was their turning point, you might ask? Simply put: the countryside. During the interview, they were telling me that they fell in love with the view, with the feeling that the surrounding nature gave them. Knowing that there were 1000 year-old oak trees on their property was the cherry on top of the ice cream. It was the small things that gave them a feeling of pride and pure happiness. Suddenly they could envision themselves living a beautiful life in Ronda, Andalusia.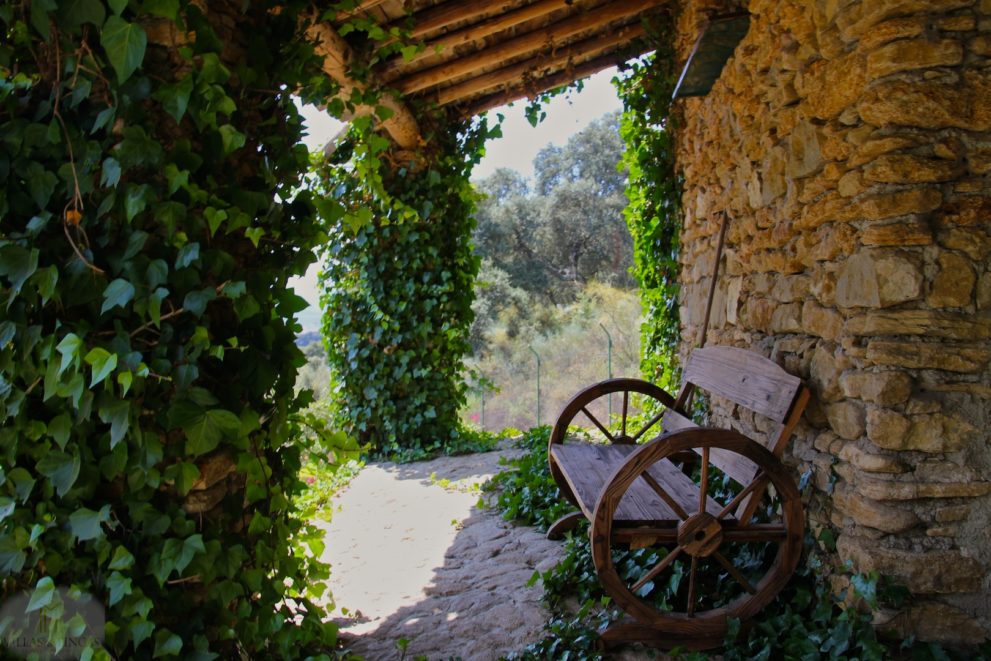 The ecological project
Finca Portier now consists of a fantastic vineyard of approximately 4 hectares. The owners estimate than by 2025 they will produce 10 tons of grapes! Additionally, they have 700 walnut trees, another 700 almond trees. Finally, an olive grove consisting of 1000 trees, of the Hojiblanca and Picual varieties. All the products have an ecological certification. If you watch the video, you will realise that it is not a piece of cake to receive this certification! Do you want to try their delicious ecological extra virgin olive oil? Do not hesitate visit their webpage! The olive oil is sold and exported in Spain and France. All other products are sold locally.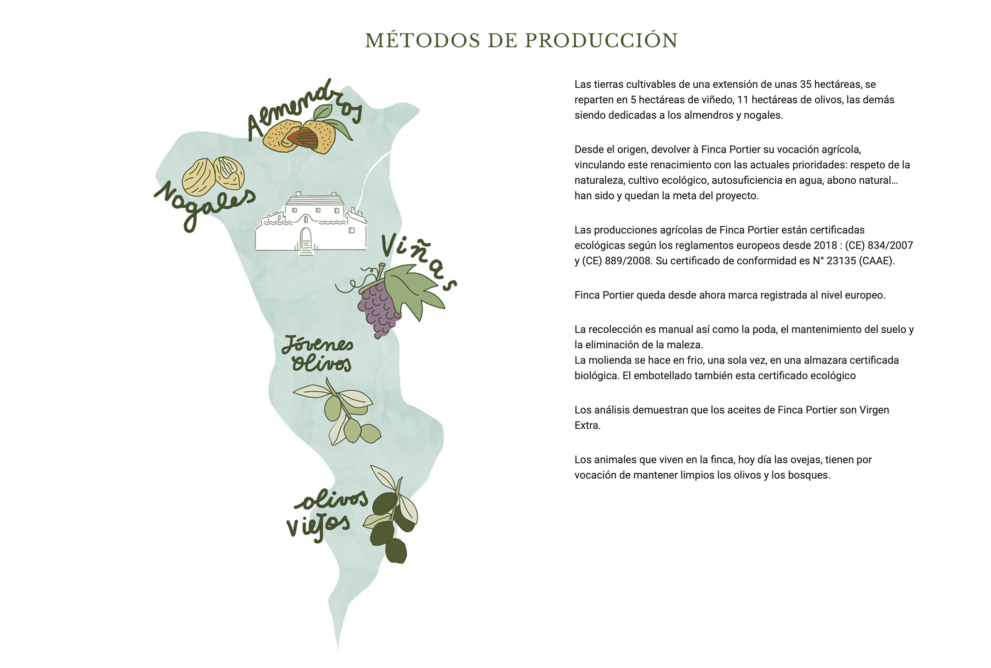 Image Source: Finca Portier
Without a doubt, this ecological project has become an immense asset to the countryside of Ronda & surrounding areas. The finca wasn't in the best shape when Brigitte & Philippe bought it so without a hesitation they made it their goal to bring it back to life. The main objective became to revive a plot of land on one hand. On the other hand, to honour the century-old traditions of making Ronda wine and Andalusian olive oil. Finca Portier is very well known in and around Ronda and the locals have nothing but respect and care for them! Brigitte & Philippe are exemplar and successful individuals whom have followed their dreams. They are fully immersed in the Ronda community, have made long-lasting friendships and have created a product that is registered on a European level.
Don't be afraid to Dream Big!
The story of Finca Portier is a story of success. It is a story that fills hearts with joy. This is a story worth telling and spreading. Thank you Brigitte & Philippe for your continuous hard work. Thank you for being the essence of our Andalusian Heroes. Has this story put a smile on your face? Has it made your heart beat just a bit faster? If the answer is yes, then you know you are ready to take the next step in your life. Click here to view our vineyards & olive groves. Do you want to work with horses? Check our equestrian farms here. Follow this link if you want to start a Bed & Breakfast or work in a rural hotel. Finally, you can click on this link to view all our country properties for sale in Andalusia.
Villas & Fincas will make your dreams become reality too. Send us a direct email to info@villasfincas.com, or call +34 952 895 139. If you prefer you can fill out the contact form below and we will get back to you.
Danielle Ernstsen | 12th July 2023