Are you wondering what living in a natural park in Southern Spain feels like? There are many areas of Andalusia home to extensive natural parks full of evergreen forests, wildlife, and beautiful nature. From experience, it is a wonderful opportunity! In Casares, we are surrounded by the natural park of Sierra Bermeja and the Sierra Crestellina mountain ranges. Here we feature a beautiful country property, in a fabulous location with sea and mountain views!
Going to the mountains is going home
As the Scottish-American naturalist John Muir once famously said, "Going to the mountains is going home". We couldn't say it any better! Casares is in the middle of two major national parks. The Sierra Bermeja, Los Reales and the Sierra Crestellina mountain ranges. Rocky and green, breathtaking wildlife… Living in a natural park in Southern Spain is one of the ultimate experiences!
Now you may be thinking, aren't natural parks hotspots for tourists? Yes and no. There are certain areas for tourists to enjoy, and then there are the private areas of the park, where a few lucky ones benefit from living within nature! This country villa is in a prime location on the side of Sierra Crestellina. As you drive through the trees up to the property, you leave behind the busy life and are greeted by nature's noises, by the lush green, the multicolour flowers and the birds flying above.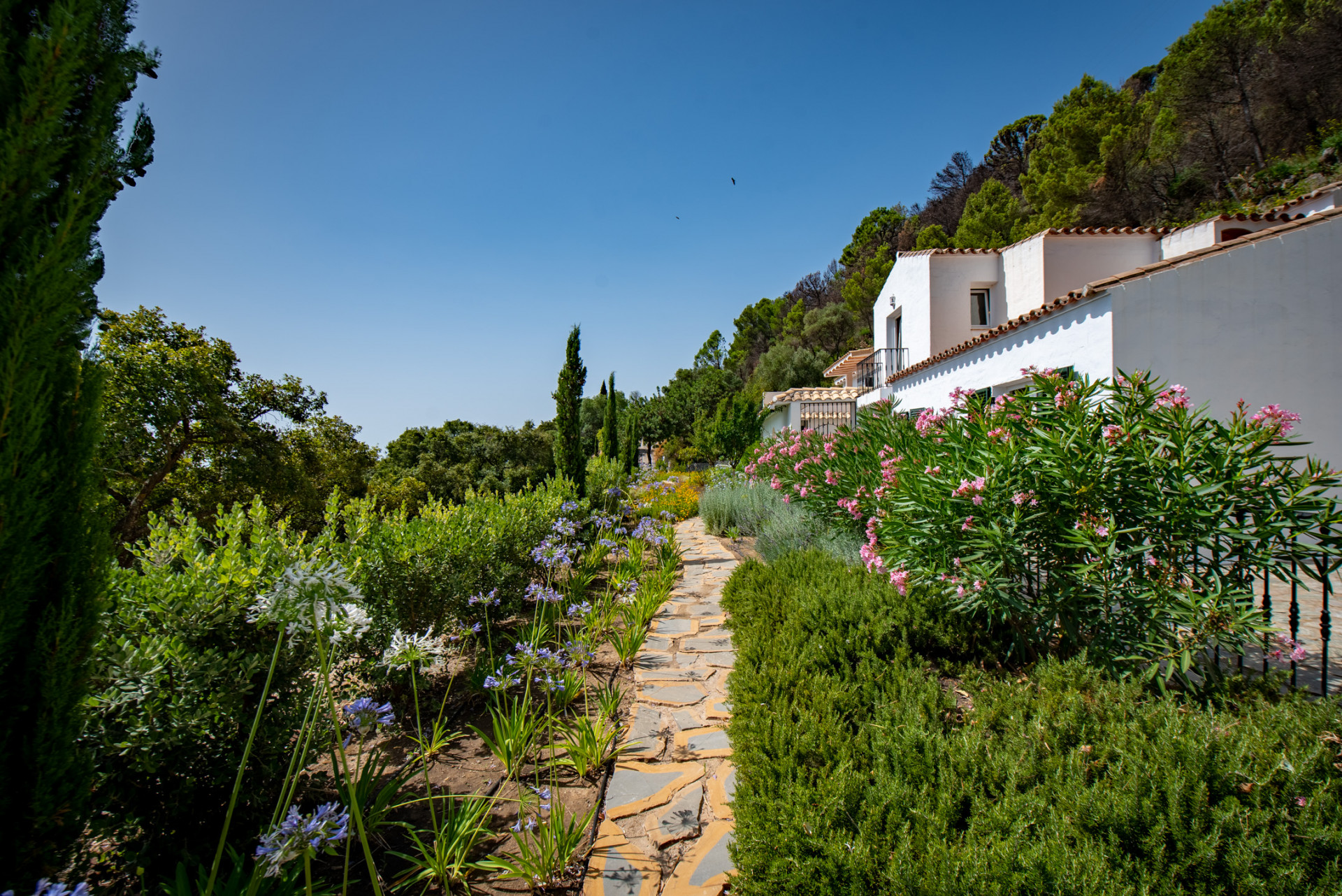 This stunning country home has a large entrance for parking and gives access to the pathways through the butterfly garden… Yes! A butterfly garden! The flowers and plants that have been planted in this area attract many species of butterflies. So whilst you stroll through this magical area, looking towards Sierra Bermeja mountain, dozens of butterflies are floating around you! The house is built over two floors, with access from the exterior to each level and an additional short cut from the pool!
Experience Slow Living
It's now more than ever, important for us to disconnect from the virtual world and head outdoors. Living in a natural park makes it super easy to do this. Getting out into nature is not an issue here! Go for a walk around the mountain, a jog, search for mushrooms… you name it! Or, if you are more into a relaxing afternoon, laze around or in the pool, looking out over the panoramic views! This country villa has many areas to discover, enjoy, walk around… You don't even have to leave your own plot! Spending time outside is a huge part of the Andalusian lifestyle, whether it's tending to your garden, a quick hike, picking fresh produce from your vegetable patch, laying on the hammock listening to the breeze and the trees… It's so good for the soul!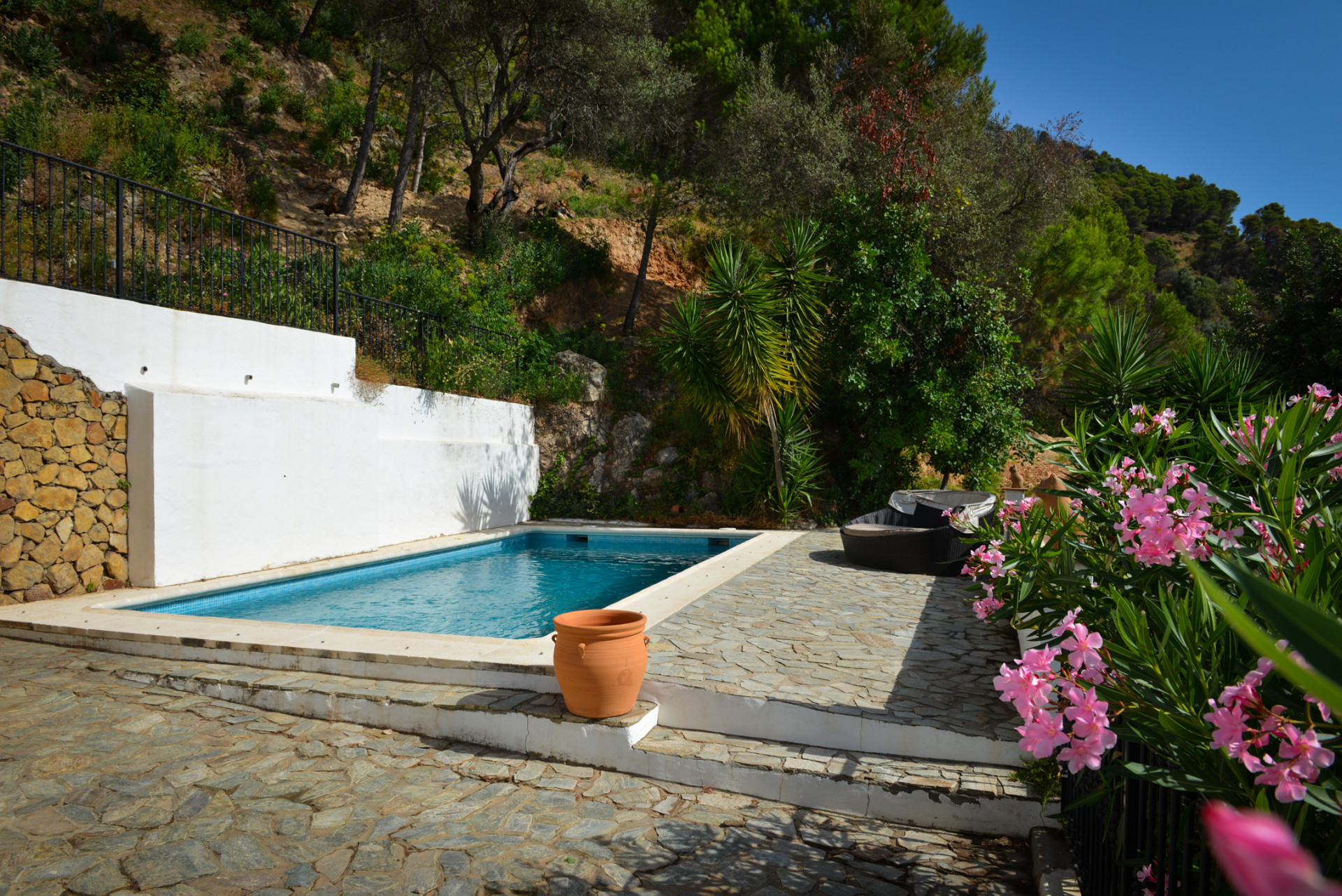 Living in a Natural Park in Casares
Most of the people who live in Casares are some kind of nature lover. If you are a national park and outdoors lover, you are more than likely to find that this is the area for you! Right in your neighbourhood, a community of people who enjoy and appreciate nature as well as hiking gatherings for a group walk. Sierra Bermeja, Los Reales offers a fabulous trail through the Spanish fir trees, with views covering the Mediterranean coastline. Sierra Crestellina on the other hand offers an exciting hike through the rocky side of the mountain, making it even more worth the trip to the top! You feel on top of the world! And this country villa is super closeby to having these walks every day!
📍Key details
Beds: 4 · Baths: 3⁠
Build: 329m2 · Plot: 10.000m2⁠
Price: 875.000€⁠
Ref. 186-00471P⁠
If you would like more information about this country property for sale mentioned above or others, please do not hesitate to contact us by email: info@villasfincas.com or by phone: +34 952 895 139.
Rebecca Marriott | 16th March 2021