Knowing that Villas & Fincas has some country properties for sale in Los Reales Estepona I decided last weekend to drive up the mountain and explore the area for myself. And what a stunning nature I discovered! The Sierra Bermeja is something truly special!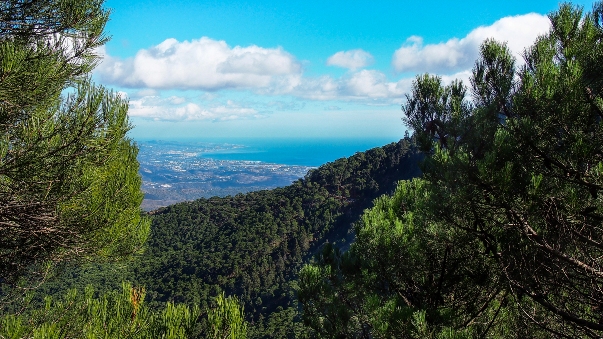 Last Sunday I drove up to 'Los Reales' in the Sierra Bermeja and walked the 'Paseo de los Pinsapos', which is a lovely track at the peak of the mountain. It's a two to three hours walk, so I recommend you to take a backpack with some snacks and lots of water. And don't forget your camera! The views are spectacular!
Enjoying the scenery
I absolutely adore the nature here. The pine forest is something you don't see down at the coast. The path is quite rocky, but there were many families with small children, so it is quite do-able for all ages. At some points you have to climb over the rocks but that is all part of the adventure and I think it's a nice variation to the normal straight and bold trails.
When you finally get to the peak, and if it's not too hazy, you can see Gibraltar and the Atlas mountains of Africa. Then you realize, how small the distance is between Europe and Africa, You also overlook quite a bit of the coastline. Straight in front you see Estepona. A Little bit more to the left you see Marbella and the Sierra Blanca. And, turning your head west towards the hills the white villages appear, for example Casares and Gaucin.
Having a picnic in the peaceful nature
There is also picnic area which includes stone BBQ's for public use. It was sunny last Sunday, so there were many families enjoying the day. If you don't want to do the complete walk, you can just drive your car to the picnic area and have a good time there! The walk in the Sierra Bermeja was really good and a relaxing way to end the week. Someday, I'm definitely going back there. Maybe next time when I have guests from Finland I will take them up here to show off the beautiful Andalusian countryside!
Anita Schmidt | 14th November 2014