About half year ago my family's big dream finally came true: We bought a villa in El Madroñal, Benahavis. It was a  big step for us to leave Finland behind and to move to Andalusia, but I think it was absolutely the best decision ever.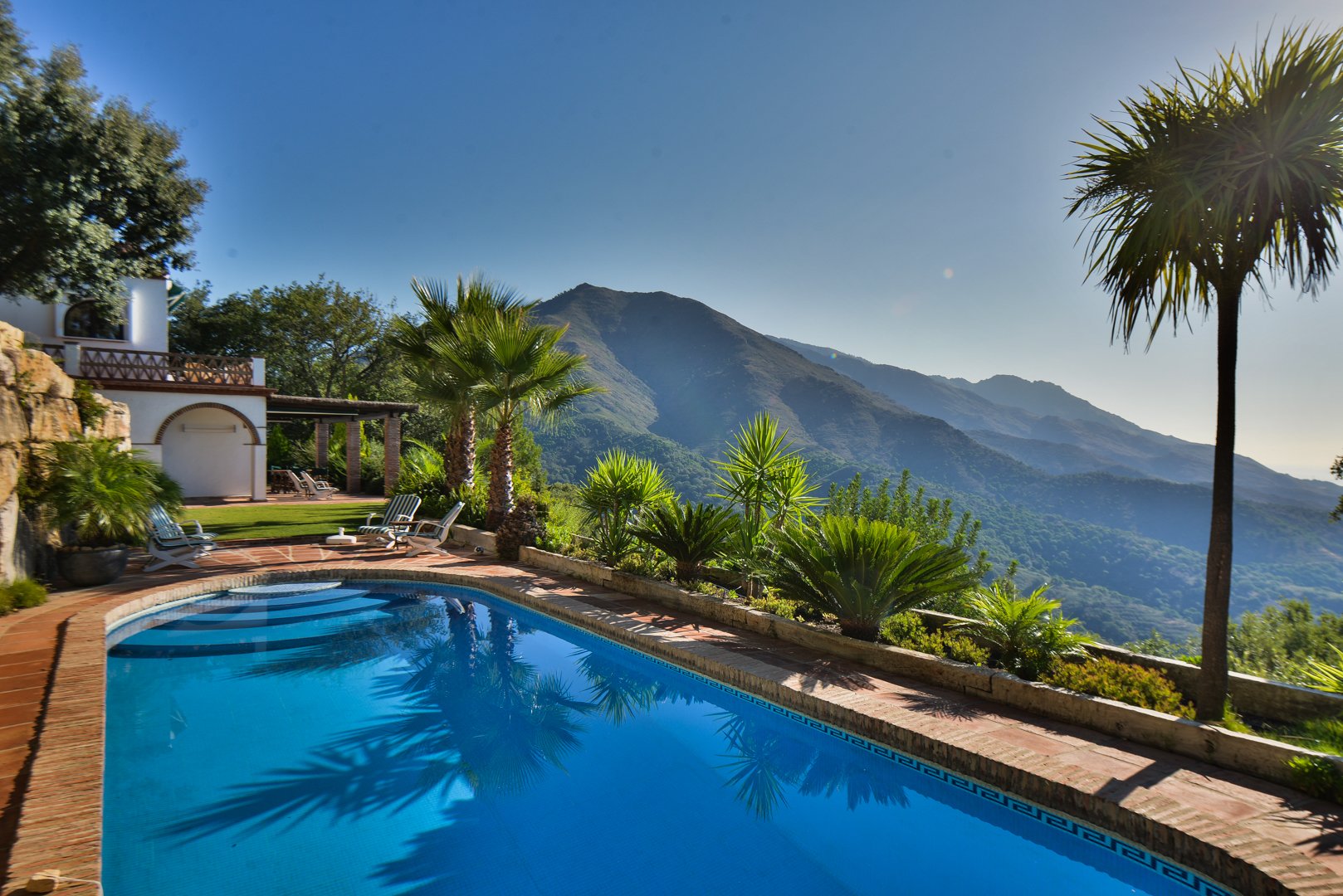 I totally fell in love with the villa in El Madroñal the first time I saw it. The views and the natural setting are breathtaking. When you drive up  the mountain from the coast and see the shimmering sea below you, the rolling hills covered in pine trees, you just got to love it, there is no other way!  The nature is so beautiful here, it makes you happy instantly. Imagine sitting on your terrace, feeling the sun touching your skin, listening to the birds singing and hearing the  goat's bells in the distance, it is so peaceful. That's exactly why I love this area, it's private, yet not too far away from the hustle and bustle from the coast.
El Madroñal, a variety of luxury villas
There are quite some large, luxurious villas in El Madroñal, but  every house is a different, private and has its own style. We were looking for a a rustic styled villa and definitely found it. The house is of a classical design and with its courtyard has the feel of a true Cortijo. The villa was about twenty years old, so it did need some renovations. However we try to keep the original details which give this house such a lovely feel. We updated the kitchen and the bathrooms and changed the windows.  And of course,  I'm from Finland, we have built a sauna in our house! So what can be better,  a villa in Andalusia with a sauna!
Of course when you're living in Andalusia, you spend a lot of time outside. The courtyard and the garden form part of your living space. In our garden you will find the most exquisite flowers and plants. Various paths run alongside the mountain that lead to a variety of trees, like orange trees, pomegranates and figs to name some of them. I'm pretty excited about the orange trees, how lovely it is to pickoranges from your own garden and make fresh orange juice!
In the middle of nature, but close to the coast
El Madroñal is quite near all the amenities. There are good schools nearby. We are very pleased to have found Laude San Pedro International School for example. They are so used to have new students from all kind of nationalities and make you feel welcome from day 1. San Pedro is only a fifteen minutes drive from El Madroñal. Also if you want to go to the city, it's just  twenty minutes to Marbella. So for me, El Madroñal is the perfect place to live. I am surrounded by nature, peace and tranquility,  can enjoy my privacy but still live at only a short distance from the day to day services we all need. It was definitely the best dicision ever to buy this villa in El Madroñal!
Anita Schmidt | 3rd November 2014