There are many things to do in Grazalema Natural Park. But first, what is the Sierra de Grazalema Natural Park? In our opinion, it is one of the most spectacular natural parks of Andalusia! Beautiful mountain peaks, lakes, caves, river valleys and so on! It was declared a "Biosphere Reserve" in 1977 by Unesco. An amazing location to spend hours or even days venturing through the park, with many activities to do!
The Sierra de Grazalema natural park
The Grazalema Natural Park is located halfway between Cádiz and Málaga provinces. In its entirety, it covers 51.69 hectares and comprises many mountain ranges. These mountain ranges have been carved by the rains, creating one of the most emblematic ranges of Andalusia. It is a karstic region and has many limestone caverns, such as the Cueva del Gato, Cueva de la Pileta and Garganta Verde. A charming place, well known for its white-washed village routes, hiking trails, the local ventas with exquisite dishes,  It is also home to many colonies of birds such as the Griffon vultures. There are many activities in the area to enjoy!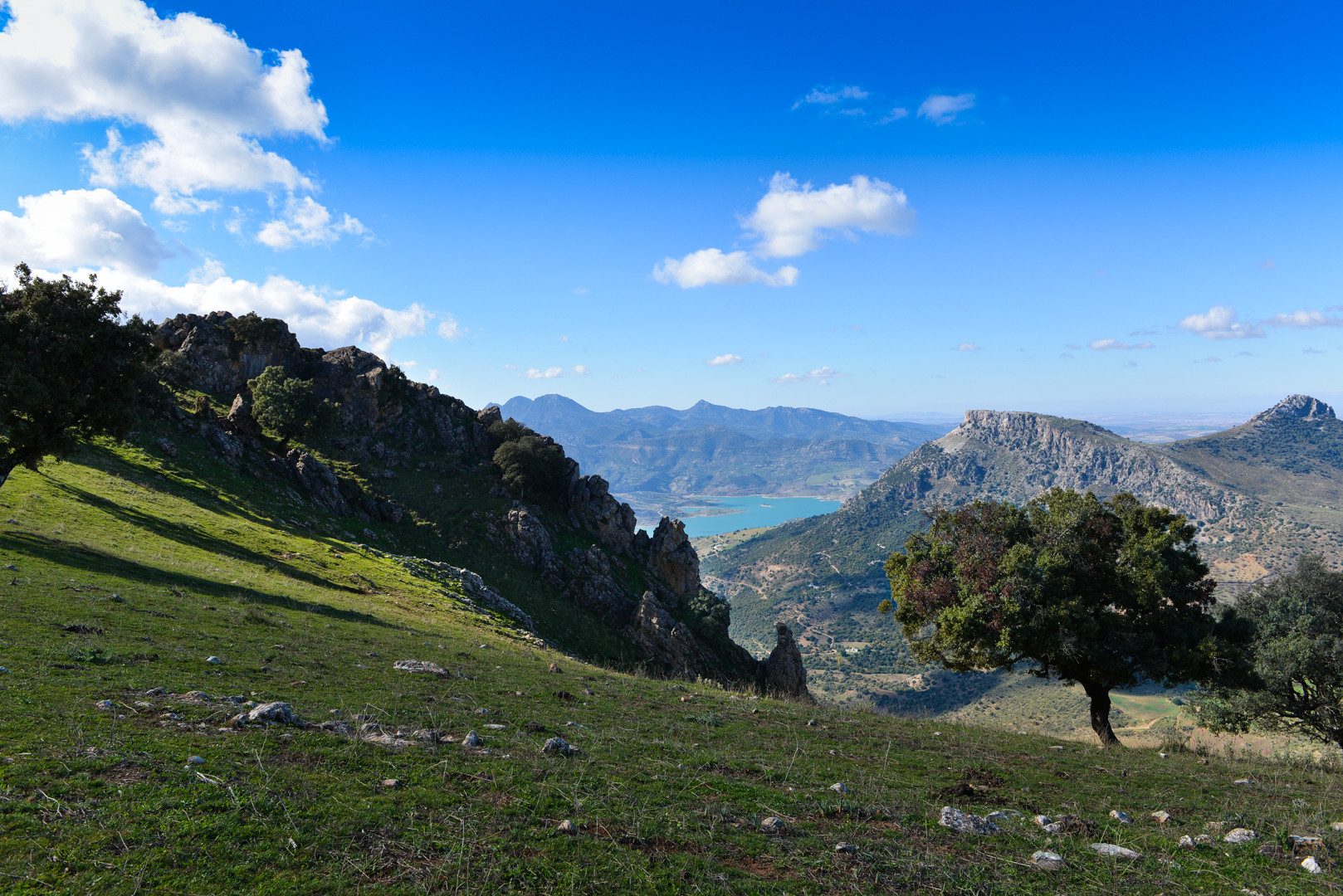 What to do in the Grazalema Natural Park?
An unparalleled natural environment, there are many activities to do in the Grazalema Natural Park. A dream for nature lovers and outdoor activities.
Take one of the many hiking trails, some are even cycling-friendly! Check out Andrews Walks for some amazing inspiration on these walks! We also recommend the white villages tour, visiting Grazalema, Setenil de las Bodegas, Zahara de la Sierra, Olvera… to name a few! These idyllic villages are centuries old, bursting with history and pretty flowered streets. Stop to enjoy local and healthy cuisine! There is something for everyone in the area, even if you prefer going to the spa! The Spa Grazalema offers a diverse portfolio of treatments to indulge in after a hike around the mountains! More activities include caving, paragliding and rock climbing.
Within these magical mountain surroundings, there is a hidden beach that not many know about it. Those who stumble upon this beach are happily surprised! Who would have thought there would be a beach in the middle of the mountains?! Also known as "La Playita" translating to "the little beach", it's located in a recreational area of the manmade lake in Zahara de la Sierra. An artificial beach created from a riverbed from the Natural Park. Surrounding it there are many natural areas to eat, swim, kayak, enjoy the sun or the shade under the trees.  In addition, the recreational area has a restaurant and a kiosk. Or you can picnic and enjoy a fabulous day outdoors!
Enjoy the outdoors!
In conclusion, this spectacular area of Andalusia is definitely something everyone should have on there to visit list in Southern Spain. Cliffs, forests, caves, flower-filled fields overflow in this beautiful wild natural park. Make a day of it! Discover the mountain peaks, look out over the lake and breath in that fresh mountain air. Head back down on the many trails, and visit the Andalusian villages. Stop to enjoy the local gastronomy of the area with divine meals. Relax at the lake restaurant with a well-earned glass of wine whilst the sun goes down.
Sounds too good to be true? We promise it isn't, check it our for yourselves!
Rebecca Marriott | 27th November 2020