Madroñal is a privileged area to reside. Tucked away in the mountains, yet at only a 10 minute drive from the coast. Madroñal gives you the best of both worlds! You can enjoy the tranquility of nature, in a protected villa area with a variety of golf courses, restaurants and shops right on your doorstep. If you find living on the countryside one step too far, but want the privacy and a natural environment, Madroñal is your place to be!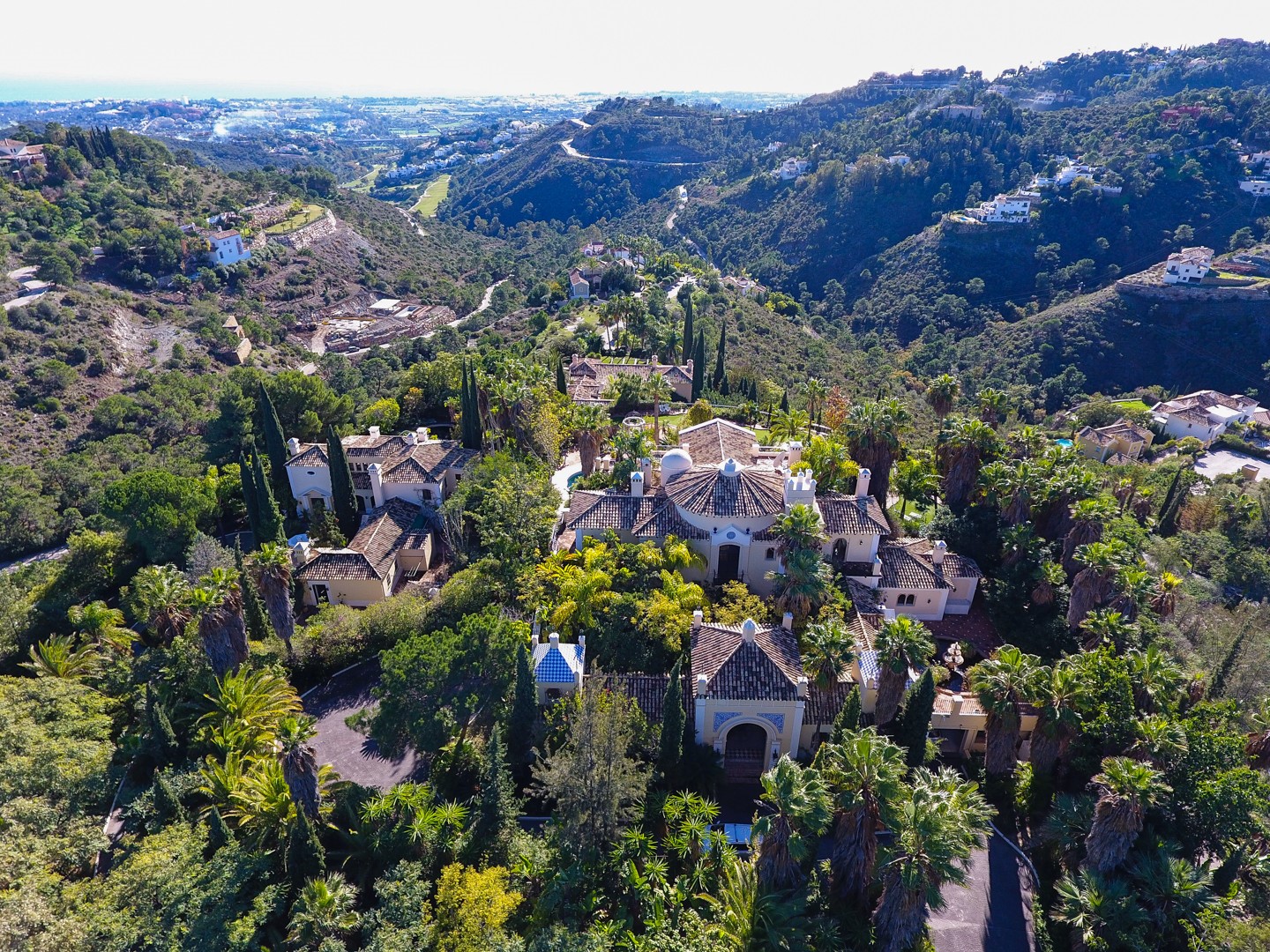 You will find El Madroñal taking the road up towards Ronda from San Pedro de Alcántara. Madroñal has 6 different entrances. Entrance 1 is as to be expected the first one you will see, the lowest on the mountain and the closest to the coast. Entrance 6 is the highest up the hill. Most of the villas here boast magnificent views towards the coast. The slopes are planted with cork oak, pine and the wild olives. It truly feels as the authentic Andalusian countryside, at 10 minutes from Puerto Banus and 40 minutes from Malaga airport. One of our clients testified of this magical place to live and wrote a Blog on it: The best decision ever! Buying a Villa in Madroñal.
Tranquil with shops and restaurants around the corner
The little village of La Heredia is almost at walking distance. Here you have a supermarket, a butcher a bakery and a variety of restaurants. Rolling down the hill a bit further you will drive into San Pedro. A lively village with some top restaurants, a lovely shopping street and also a medical center. With Marbella around the corner you have international doctors services available in almost any language you can imagine. It is however good to have the local service nearby as well.
If you decide to live here with your family you can choose from different International schools. To name just a few: Laude international school, Aloha and Swan. They all have excellent reputation and offer different curricula in Spanish and English to suit your childs needs.
Madroñal actually belongs to the municipality of Benahavis. A sweet white mountain village. It is known for its top quality restaurants. It is a bit a hike up the mountain, but for a top quality Spanish meal we can recommend Los Abanicos.
Golf, Mountain hikes and beachlife
Driving up to El Madroñal you will pass some golf courses already: Los Arqueros, El Higueral. And quite near are Atalaya, El Paraiso, Marbella Club. And on the coast you find over 100 courses. The Costa del Sol is a paradise for golfers. If however you are more of a hiker, from El Madroñal you can go directly for a hike in the mountains. The Rio Guadaiza offers a stunning setting in this perspective. Are you however a less active person, who enjoys a cocktail on the beach or an afternoon of luxury shopping? The luxury beach club Nikki beach or the beach and shopping center Laguna Beach are at easy reach.
Back to Peace and Tranquility in El Madroñal
Yet the best of it all is that, after visiting these restaurants, golf or beach clubs, the hustle and bustle of the coast, you can go back to your tranquil spot on the mountain. Madroñal is a community. The plots are generous and every villa enjoys its privacy, but if you need a neighbor you will have one nearby. The members of the community share the maintenance of the roads, the communal gardens and the security. Each gate has a security entrance and there is surveillance.  Madroñal offers a safe environment to retreat to after your busy day on the coast.
Interested? Check here for Villas for sale in Madroñal
Anita Schmidt | 30th January 2020