Near Gaucin, you will come across two of the most sought-out rural luxury locations of in Andalusia. La Hoya and La Almunia, also known as La Almuña. Located at just 10 minutes from the picturesque village of Gaucin, these private estates are home to a lucky few. Villas & Fincas has sold a few country properties in both of these estates, and there is still a handful for sale. Both of these privileged estates boast incomparable large private plots and stunning views over the countryside. A unique private location at only 40 minutes from Sotogrande and the beach.
La Almunia, Gaucin
La Almunia, otherwise known as La Almuña is a country estate of 98,46 hectares in total. Subdivided into 14 private plots and home to a handful of country villas and cortijos. Surrounded by centenarian  Cork Oak, it feels like a private Natural Park. The name La Almunia derives from the Arabic-Spanish term al múnya. Originally, meaning an orchard or farm with a small country house, surrounded by lands and gardens. However, it's understood that in Andalusia in the Middle Ages, the meaning of the term La Almunia was a plot of a considerable extension, a large farm, in the hands of aristocratic lineages.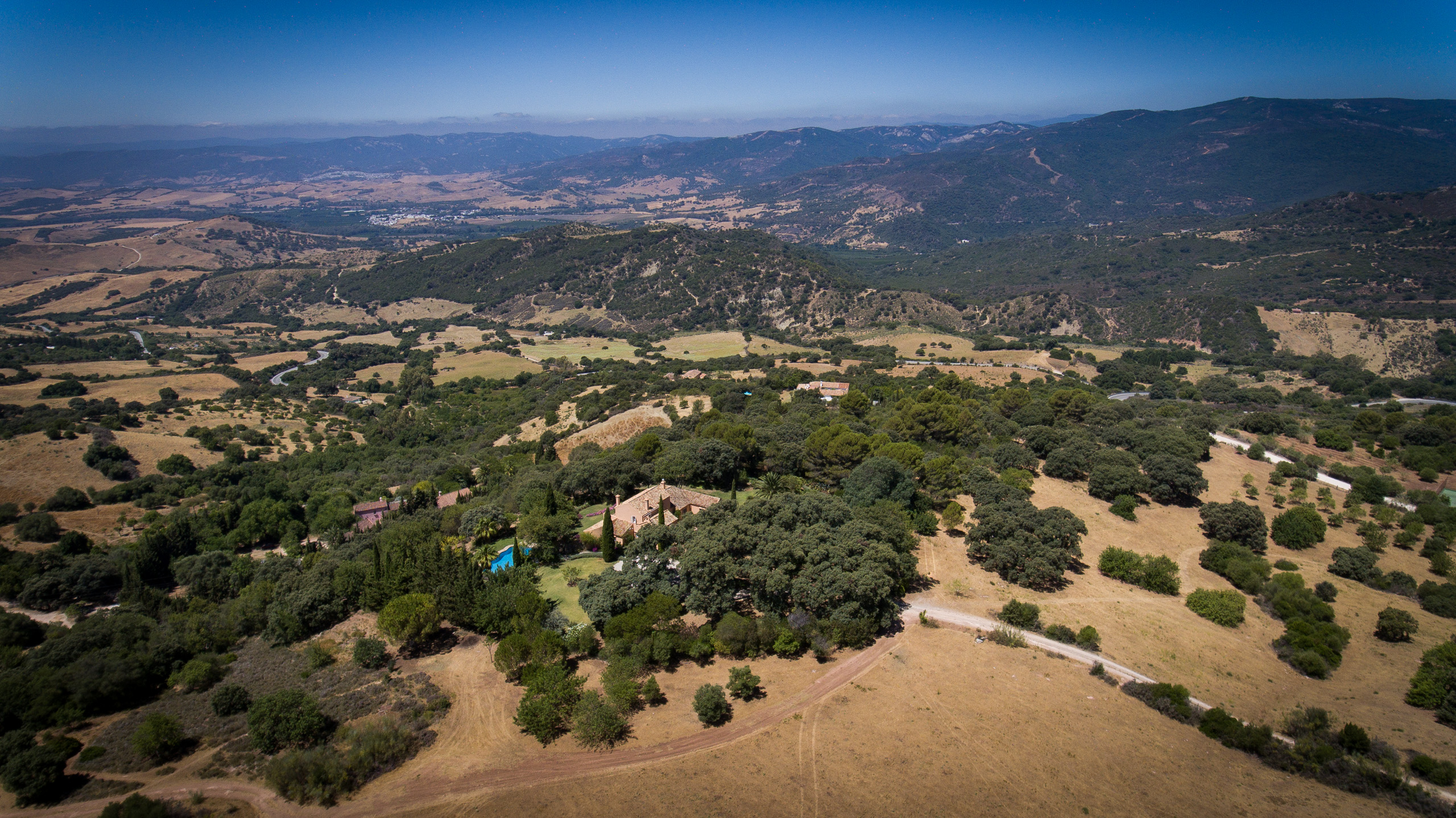 Private developers had the idea to recreate the idea of La Almunia to meet the dreams of foreign purchasers, to own a farm in Andalusia, yet not have the responsibility to run the farm yourself. They created a private estate, with 14 private plots, where each individual owner obtained the right to build a grand country house to their wishes.  The idea was to create just one, big estate. There were no fences put in place. Every homeowner had their private grounds, and there were communal areas for the use of all. The communal areas were and still are used for farming. The area is the ideal place to own a holiday home, to relax after many months of hard work, a family home to start a completely new life or the perfect spot to retire.
To fully enjoy the Andalusian country life, the community exploited a large, organic vegetable garden where you can pick fresh fruit and vegetables. Also, there are sheep and horses grazing and there is a communal tennis court. The community fees provide for a local live-in farmer to look after the animals and farm. This has all of the benefits of the farm life, yet it's all completely looked after for you!
Country properties in La Almunia vary in size and shape. Over the years, they rarely change hands of ownership, and it is considered a privilege to own a property in such a unique estate in Spain. At present, we have only a few properties for sale in La Almuña. An Andalusian dream, with a central courtyard with water features, majestic centenarian oak trees and landscaped gardens.  In addition to a traditional country villa with terracotta tiles and wooden beams.
La Hoya, Gaucin
La Hoya was developed following the footsteps of La Almunia, yet to build even larger cortijos and country homes. It's another luxury country estate of approximately 100 hectares. The name La Hoya means a cavity in the earth, and it fits perfectly this area as it is spread out over the rolling hills. This luxury rural estate provides homeowners with privacy and panoramic open views of the countryside, towards Jimena de la Frontera, the Alcornocales Park and Gibraltar.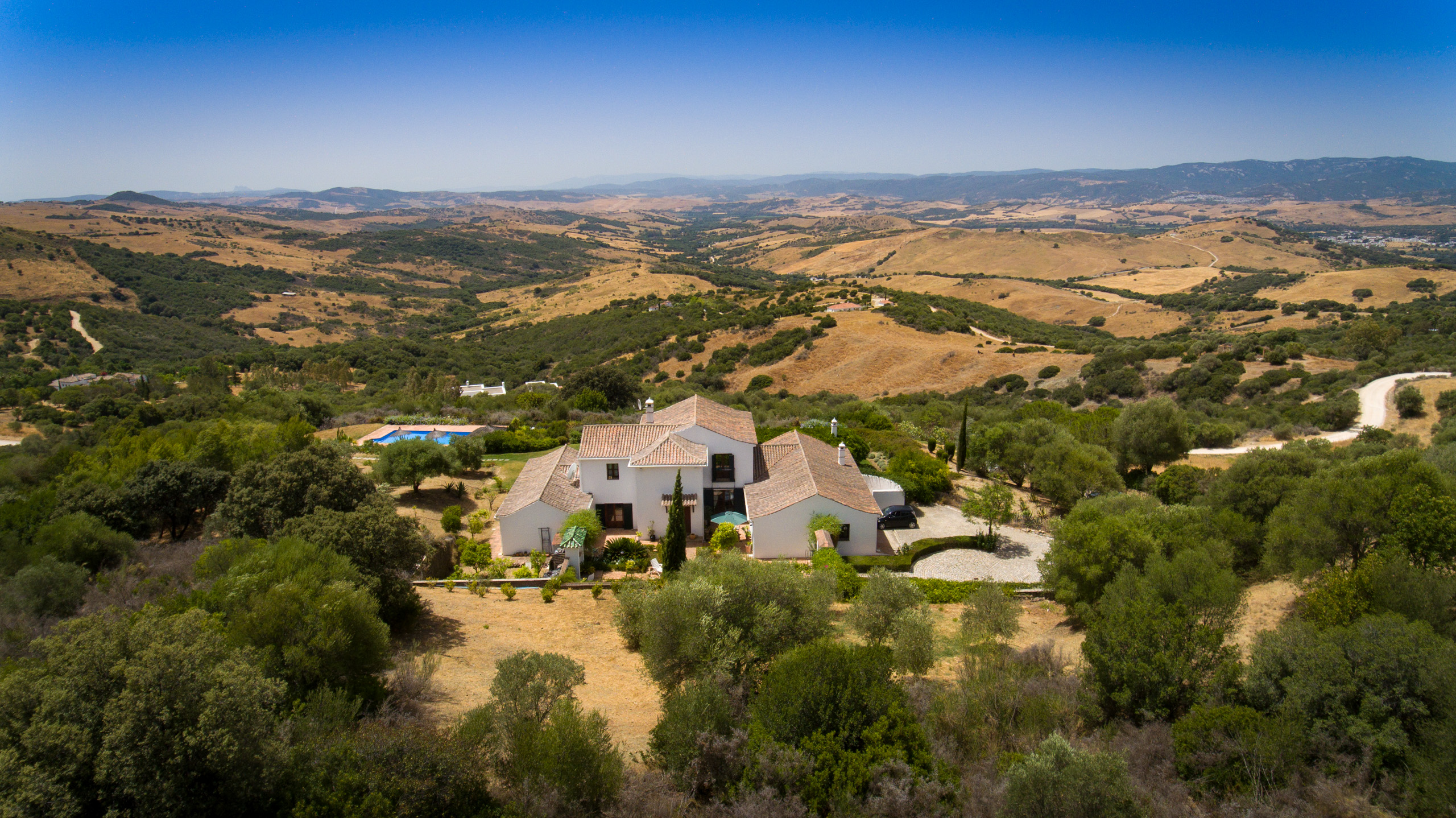 The owners here share the infrastructure of the community water and road. The plots are private and quite substantial to ensure privacy and views. There are endless trails through the countryside for walking, hiking, horse riding and so much more. It is a true luxury to live in such a natural setting! To live away from the crowds and just enjoy the peace and quiet that nature offers. And of course, not forgetting the stunning views! There is no noise to be heard, so whilst sitting on your terrace drinking the morning coffee, you are listening to the birds chirping, the tingling of the country animals bells in the distance, the bees humming… What a wonderful way to start your day! The priceless luxuries, watching the sunset over the undulating countryside, enjoying the wining and dining al fresco under the starry nights, lounging by your pool…
Country properties in La Hoya are of different styles and sizes. We currently have a few country properties for sale in La Hoya which range in price, size and style. Firstly, one of the most beautiful new built country villas in the area. Sitting on a hillside of a large plot, surrounded by stunning nature and spectacular panoramic views over the valley. Secondly, a split-level country villa with a rustic-Andalusian vibe, large garden and guest apartment. And lastly, a lovely finca on a large plot of land, with the potential to keep horses or farm animals.
La Hoya and La Almunia
La Hoya and La Almunia/Almuña in Gaucin, two breathtaking estates with a very special and unique atmosphere, offering a variety of large country houses and cortijos for sale. These estates form part of the most desirable places to live in Southern Andalusia. For those looking for the real, rural Andalusia, yet living with the modern necessities and contemporary luxuries. Thanks to it's proximity to the white village of Gaucin, going out for a nice meal or shopping is not a hassle. In Gaucín, we personally recommend El Platero & Co and Azulete. These restaurants have some of the top reviews in the area, with the best tapas, attention to detail and delicate menus reflecting the season. Gaucin provides in all your basic needs. You will find several small supermarkets, even an organic shop. Yet for a bigger shop, Jimena de la Frontera, Sotogrande or Estepona.
La Almuña and La Hoya, exclusive country living!
Whether you are looking for your dream home in the countryside or a tranquil holiday retreat with panoramic views, Villas & Fincas is here to help you reach that goal! We offer a wide range of luxury country properties for sale in Andalusia.
Please do not hesitate to contact us, we are looking forward to helping you!
Rebecca Marriott | 18th July 2019