Yesterday the Olive Press published an article about a painting  made on a ruin on the road in between Casares and Gaucin. The work shows two soldiers with guns who, from the road, look very vivid and alife!  Were they painted by the famous Banksy ? Had he been here, in our neighborhood?
The first time I saw the painting I actually hit the brake of my car, feeling surprised, maybe even a bit frightened, wondering what on earth these soldiers were doing there in the middle of the countryside. They looked so real! As I am acquainted with the owner of the land I asked permission to have a closer look at the paintings. Excited I started the walk down the fields this morning, towards the ruin.  The grass was way over knee hight, the prickly bushes were scratching my legs and arms and I was hoping not to come across any hidden snakes here. I didn't mind really, I was about to verify and see a true Banksy artwork from close by!
A true Banksy in Casares?
Getting closer I saw the numbers on the uniforms, just as the article had said, number 9 and 11. The political statement made it even more likely that the work would come from the hands of Banksy. The last part of the walk, to get close to the ruin, was almost impossible to do. I should have brought some tools to cut back the bushes and branches! Yet I didn't give up,  I just had to get closer to see if there was a signature. Standing face to face to the soldiers I was impressed to see all the details, actually the soldiers were playing football and it was clear to me this had to be an artwork of Banksy, since he always adds these unexpected details.
Surpise, surprise
My hart was pounding in my throat when I realized the work was signed. I pushed away the branches, bushes and grass to get to it and instantly saw it. Down there on the bottom it was signed! I was a bit surpised when I saw the  signature, it said 'Innerfields'. Who is Innerfields?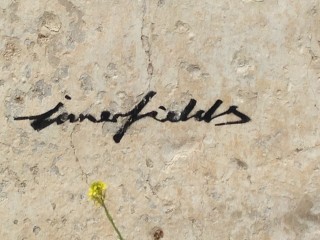 Innerfields turns out to be a group of Berlin artists, dedicated to design abandoned walls and spaces. Why two soldiers with the numbers 9-11? Playing football on an old cortijo wall? In the middle of the beautiful Andalusian countryside? 15 Minutes from the coast? I guess that will remain a mystery!
Many cars are stopping now, to watch, and that is maybe just what the artists wanted. That the fortunate people passing by this beautiful area in between Casares and Gaucín, this little piece of paradise, suddenly see this artwork, to remind them that there is another world ou there that is less beautiful?
Anita Schmidt | 21st April 2015