To be honest, I always linked the beaches in Huelva with the mass tourism holiday resorts in Islantilla. And  I was wrong! Huelva holds some hidden treasures. Beautiful small coastal villages. Sure, with tourist accommodation, but small scale. Lovely long stretched sandy beaches. Delicious fresh fish in authentic restaurants. Lovely little harbours. A perfect example of authentic and sustainable tourism. A joy to spend your holiday!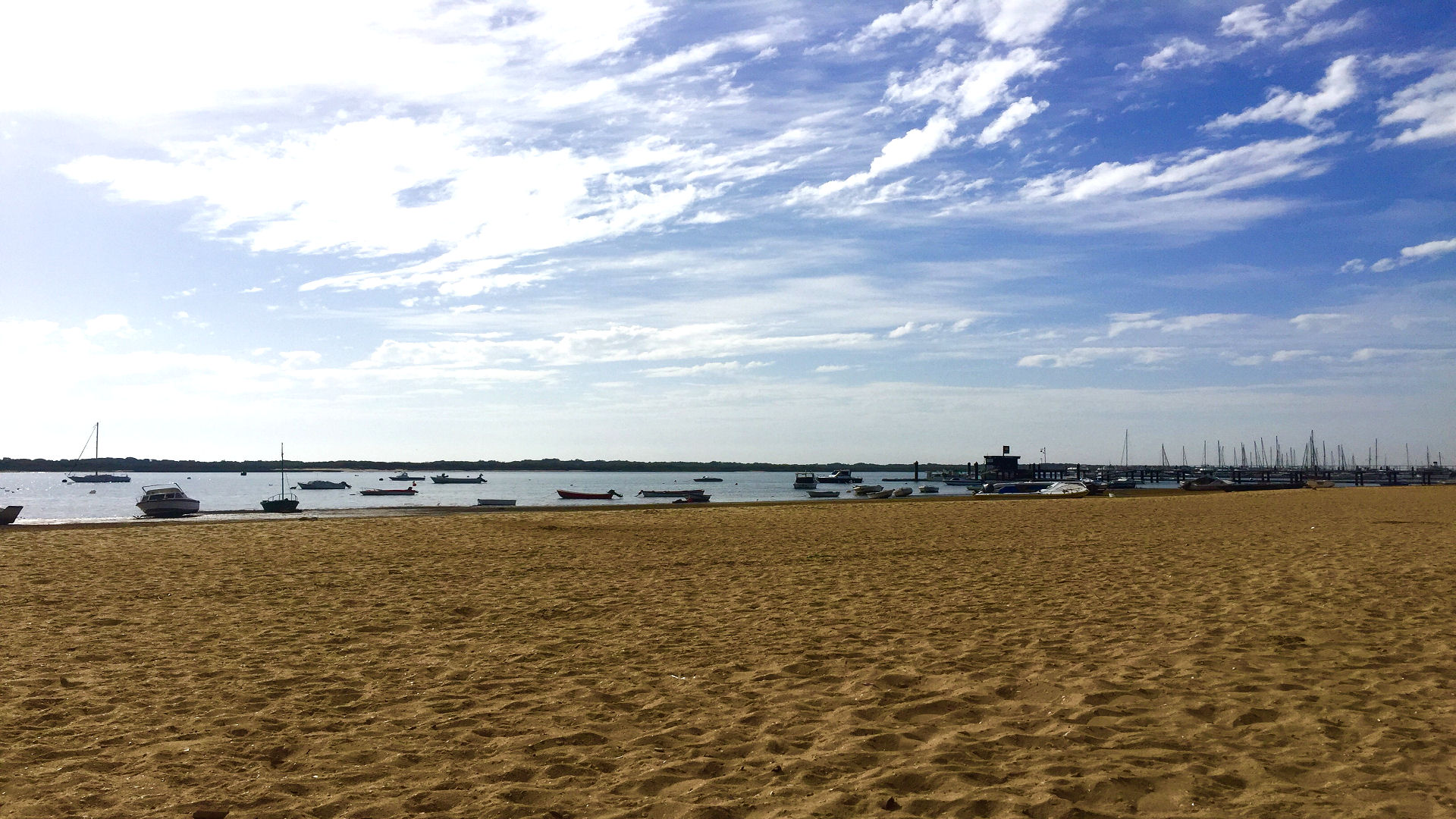 I was lucky enough to spend some days on the beaches in Huelva, in the little village El Rompido. This village is located at the mouth of the Rio Piedras, where it flows into the Atlantic Ocean. We were meeting up with a client who came to see a Hunting Estate at just a 25-minute drive from this beautiful coast, The estate  El Matuloso. Instead of staying inland, we decided to show them the coastal facilities in this area as well. So they could see how they can have the best of both worlds: Shooting, horseriding, waterskiing on their private estate. And a relaxed day on the beach, with long walks on the shore and a superb lunch with fresh fish the next day.
El Rompido, beaches in Huelva, Andalusia
El Rompido is a fisherman's village and holds one of the most beautiful beaches in Huelva. It is easily reached by either Seville airport, or Faro airport in Portugal, both at app. one hour drive.  at 90 km. We stayed in the Fuerte Hotel in El Rompido.  This fantastic 4-star Hotel will take care of the transfer from either one of the airports if you are staying for more than 3 days. But I would advise you to rent a car, to be able to explore the area. From your hotel, you walk in less than 5 minutes to the harbour and the village. The beach in the village, on the Rio Piedras, is perfect for small children. Yet a free boat taxi will take you to the famous beaches in Huelva, on the Atlantic shore. Over 14 km of long unspoilt sandy beaches lie there to wait for you. I didn't know this tranquillity still existed in Andalusia! Whether you like to spend your day on the beach or prefer a more active holiday, both are available. Kayaking on the river, sailing or kite surfing, fishing on the Atlantic, it is all available.
Doñana natural Parc, the Enebrales and the Odiel marches are nearby as well. You can explore the stunning natural setting of these coastal natural parks and observe the wildlife and birds. If you are interested in Spanish culture I would definitely recommend visiting the village, El Rocio. The cathedral in El Rocío is the famous Pilgrims destination. The pilgrimage begins with a walk over an ancient footpath alongside the Guadalquivir river. Thousands of people join on foot, on horseback and in carriages to end up eventually in El Rocío. Next to impressive processions you will also get a taste of the Spanish art of partying. You will hear live music in every corner, there is dancing, drinking, eating on every corner and everyone is welcomed to join the festivities.
Back to the beaches in Huelva, Andalusia
Back to the beaches in Huelva, Andalusia. Once more I want to express my joy to have found these hidden paradises. I will definitely go back there. Three days was not enough to explore this part of the Andalusian coast. Even though there is a lot to explore in the close surroundings, I forgot to mention the most important feature of the beach in El Rompido. It is the perfect place to enjoy the good things in life! To just sit in the sun with a good book and do nothing! Just relax. To wander around the little fisherman's village with nothing else in mind than finding another good restaurant. I cannot remember to have eaten such fresh Gambas a la Plancha for a long time. Not to mention the size of the Lubina (seabass) we ordered! Even if you only go for tapas, everything is homecooked and fresh. So, sunbathing, a stroll along the beach, good food and a nice glass of wine to go with it. What more do you need ;-)!
Anita Schmidt | 13th November 2016