A little south of the famous city Granada you will find a beautiful cortijo in the green Lecrin Valley. A perfect holiday destination, or an area to reside, enjoying the stunning nature and the orchards. Only 30 minutes away from the Coast and the beaches, yet lying at the foot of the Sierra Nevada mountains.  An ideal setting for this cortijo, built to reside and to ocasionally organize events and have guests.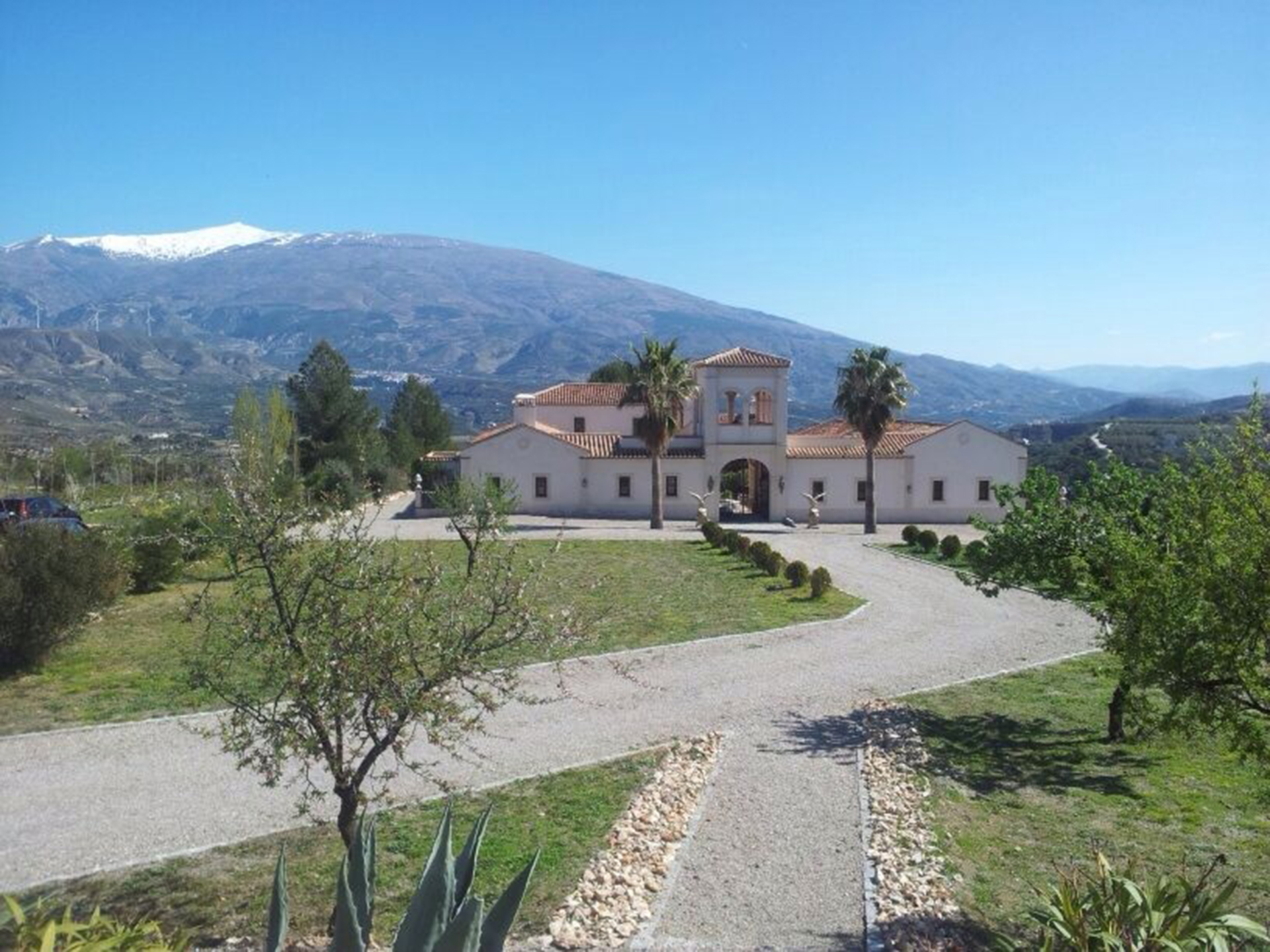 This valley is a hidden treasure and not yet known by many. Once found, you will easily loose your hart and never want to leave again. The Moors called it the happy valley and, although you will find quite a few foreigners residing here, it remains authentic Andaluz. It is an area known for its production of oranges and almonds. The smell of the orange blossom in March is overwhelming, and so are the amazing views over the white flowering almond orchards in Februari.
The best of many worlds
Lecrin valley combines the best of many worlds. Just 1hr and 15 minutes from Málaga, 30 minutes from Granada, less then an hour from the Sierra Nevada and 30 minutes from the Costa Tropical, you will never get bored here. You can stay in the valley to enjoy one of the many walks through unspoilt nature, go for a tapa and a beer in one of the bars in the Andalusian villages, kayak on the lake or take your horse on a trail. Looking for culture? Granada is within half an hours drive. Granada offers not only the Alhambra and the Albaicin. It also offers an extensive cultural programme to enjoy all year round. Fancy a day skiing? Yes, that is also possible, as is a lazy day at the beach.
Cortijo Lecrin Valley
It is not difficult to understand why the current owners chose this area to built their stunning Cortijo Lecrin Valley. It is built with the idea to entertain guests and to organise small events and concerts, yet also just for themselves, to enjoy these stunning surroundings, the sun, the sea, the Andalusian lifestyle. And so they have! The cortijo is very well designed, divided into a private wing and a guest wing, to guanrantee privacy for owners as well as guests. For them it is time to move on and with pain in their hearts they have put the property up for sale. The joy the area and property has given them is priceless and they want to pass this on to the new owners.
Anita Schmidt | 11th March 2016