Just on the outskirts of the city of Ronda you turn into a track that will take you back to Roman and Moorish times. An ancient old road,  here and there with the original Roman pavement still on it, leads to the most enchanting Rural Hotel I have seen for ages. This lovely country property is located in the midst of a millenar oak forest that covers the sloping hills. When the gates open and you enter the property you will be overwhelmed by the stunning natural beauty of this place.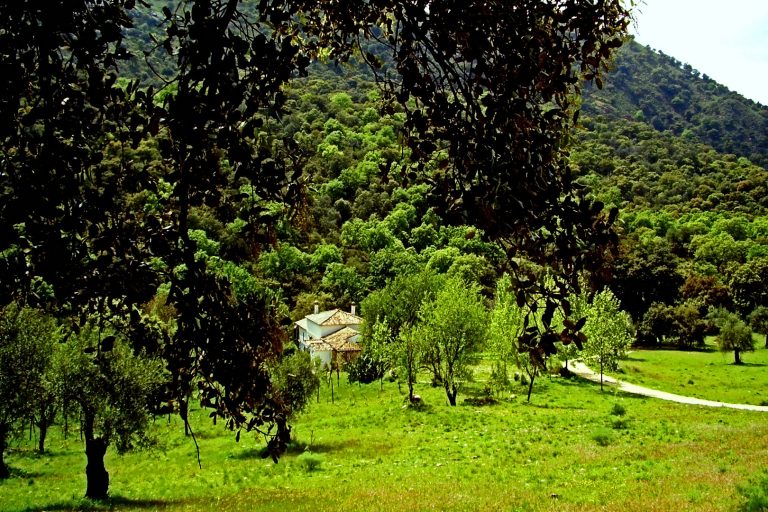 An oasis of peace and tranquility, covered in history, what more can I say! You can imagine yourself wandering over this 5 hectare plot, picking pomegranates, plums, figs or blackberries. There used to be a vineyard as well that can be easily recovered, to produce your own wine. A lavender path will lead you to a pool area which is beautifully designed giving you the impression to be bathing in a true Roman bath. Further along you will actually find an XII century water deposit. When restauring the deposit, two golden Roman coins were found!
A Country Retreat
The house itself is new built and up to todays standards. It can be run as a guesthouse, a 6 bedroom rural hotel or a private retreat, whatever the new owner prefers. There is also a small, fully fitted apartment for the manager/caretaker. The house is beautifully designed respecting the history of the area, using many antique materials and original details.  Within and around the house you will find many areas to relax, the extensive terraces invite to spend long lazy summer nights with friends and family, wining and dining.
Anita Schmidt | 30th April 2014