Living in Andalusia isn't just about surviving your daily life. I can tell you from my own experience that it is worth it to participate in the local and provincial parties of the area you live in, as it will enrich you with new knowledge on the Andalusian culture at the same time as you're having a nice afternoon with your neighbours and friends.  I went up to the town of Gaucín on Easter Sunday to attend to the famous bull lockup.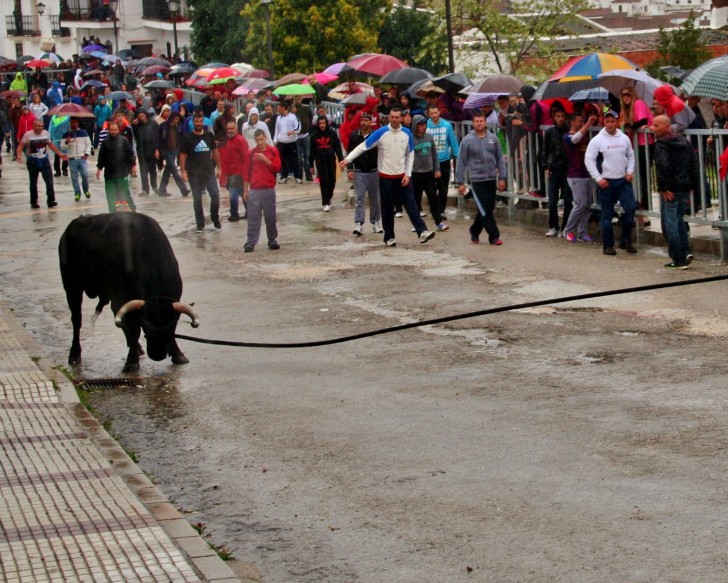 The bull lockup
The event consists of guiding a bull, which will be locked up in a cage at the end of the run. The participants start off guiding the bull by running through the streets of the assigned town until reaching its cage. During the whole run, the participants' objective is to incite the bull to follow them whilst enjoying the adrenaline that runs through their bodies. It's a dangerous sport, but at the same time it's entertaining for the participants as well as for the visitors. Every year on Easter Sunday there were two runs in Gaucín, one in the morning and the other one in the afternoon, they were two great opportunities to feel the impulse of the participants of the bull lockup. In the meanwhile, the bars are open to have a beer or some tapas whilst waiting for the arrival of the bull.
Additional trips
The surroundings of Gaucín are truly beautiful. Before going to the bull lockup at 4pm, I had lunch in Genaguacil in the Venta San Juan. To get there, you have to follow a winding road through the valleys and mountains of the Serranía de Ronda made up of a broad diversity of species. Now days, in spring seasons, the greyish roads blend together with the mud of the forests and the vivid green colour of the trees' leafs. It is a stunning image. The Venta is located next to the bridge that croses the Genal River, serving a delicious menu, and I will warn you, they will serve big portions. Where to leave your children? No worries. With the supervision of an elder they can play in the river while the rest orders and wait for the food.
Also the towns of Benarrabá and Ronda are worth visiting. Every mountain village has its own charm, either for the miniscule streets, the ancient buildings or ruins or for its welcoming sphere. At the end of the day, a simple local party can become into an entertaining day, discovering the inner towns of Andalusia.
Nienke Ernstsen | 28th April 2014