Frankly, I began to wonder why I left the Netherlands! My dream was to live on the Andalusian countryside, on a beautiful authentic finca, surrounded by  olive trees, and space! And now I am wearing my days in a tiny  apartment. That's not at all what I expected. But then …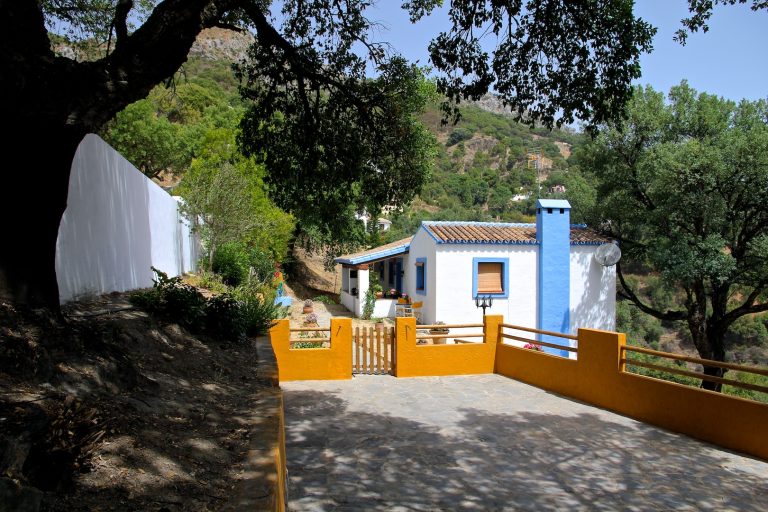 I am sitting here on my lovely balcony, enjoying a good cup of coffee and the early beams of sunlight on my face. Nienke and Danielle are playing inside and Michelle sleep. On the street below me is the Sabinillas Sunday market in full swing. I can hear the haggling over fine pieces of 'antique' and the air is filled with sweet scents of fresh fruit.
Is it really possible?
With a big smile on my face I thoroughly enjoying  the almost impossible that happened yesterday. For weeks we have been looking for a decent house to rent. Something with a little garden, so the kids can go outside to play.  A normal house for a reasonable price, not € 3000, – per week they are asking in the summer months. Something to rent for  a year, or perhaps longer, if possible. And preferably where we can bring our  own stuff.
I had almost given up on this modest dream. For a tiny house  with a little garden in  urbanizations where I definitely didn't want to spend my days they were still asking for a rental of  € 2500, – a month!  … August is definitely not the month to find an  affordable rental house!
Wow!
It may sound blasé, but I am slowly going nuts in this apartment. Five people, crammed together in a 50m2, 3 bed flat. The kids have to be shushed every 5 minutes to not disturb the neighbours with their singing (and screaming…). I feel I can't breathe, I am not getting enough air! Desperate I fell crying on my bed. How can I ever feel at home in Spain if I cannot find a decent place to live? I came here for  space, for nature, for fresh air. I came here to live outdoors, for the kids to run an play in the fields. And instead, I am sentenced to live in a flat?
A detached house with a garden
But yesterday the gods where with us. We were just driving around, exploring the area and randomly  decided to take a right turn into a dirt track. There were some houses  and a large shed. I said: "Let's ask these people whether they know of any houses for rent , Oscar."  I don't know how we managed the get the message through with our three word Spanish vocabulary base, but somehow we did. We were directed to a lovely white detached house, with an arched porch and a lawn. Behind the house was a beautiful olive grove, orange trees, fig trees … Wow! This is exactly what we've been looking for. It's affordable,  at a 10 minutes drive from the village, unbelievable.  The Spanish owner had lived for many years in Germany and spoke perfect German. We could make the deal there and then!
I still can't believe have lucky we've been.  It came on our path, just like that. Coincidence doesn't exist, they say? Well, then it must be faith!
Anita Schmidt | 16th April 2013