Casares is a beautiful, picturesque white mountain village in the mountains. It lies 12 kilometres inland, approximately 1 hour away from the Málaga airport and Gibraltar, 45 minutes away from Marbella and about 30 minutes away from Sotogrande. Casares town is historic and charming. Casares countryside is peaceful, quiet and absolutely stunning. If you're looking for a new home in the mountains, with the coastal facilities at easy reach, Casares is the place to be. In this area we have a great portfolio of country houses and cottages, villas, vineyards and equestrian estates for sale.
Facilities and services in Casares
In the small village of Casares, you will find everything you need. Don't expect a large supermarket but the little shops sell the most delicious fruit and vegetables, homemade chorizo and sausages and not to forget the famous artisan Casares goats cheese. It is a lovely village to wander around and the locals are very welcoming. The village offers all the necessary facilities, including a public nursery and primary school, a doctor, a public library, pharmacy and of course, a dentist. If you prefer more international options, remember that the coast is a short driving distance.
What makes this village so complete is that, besides the amenities, Casares also has plethora of activities for people of all ages. You can follow dance or theatre lessons, go to language classes. Furthermore, participate in sports activities such as football or pádel or simply go to the local gym where they offer group classes too!
What to do around Casares?
Just outside of the village, Casares has fantastic golf courses, such as the Finca Cortesín, which hosts the Volvo World Matchplay. You can also play at Casares golf, Doña Julia, Estepona Golf and many more! If you like to drive a little further, you can find more beautiful courses around Sotogrande, like the Valderrama Golf Club. Casares is paradise for golf fanatics.
If you prefer more adventurous outdoor activities such as hiking and climbing, then again, Casares is a marvellous destination. There are eleven special and beautiful routes that you can do in the area. For more information click here. For the climbers out there, the Casares area has many famous places you can go to! One of the most beautiful and challenging routes is near the Utrera Canyon.
Activities are endless, but some other highlights include the stretched beaches with its respective beach clubs, horse riding, spas and wellness centres.

Wining & Dining in Casares
Casares counts with some fantastic and delicious restaurants. You do not have to drive far to find the most exquisite food or to enjoy a typical Spanish lunch. To mention just a few: six different restaurants at Finca Cortesín, Venta García, Venta Victoria and many more! If you want to eat in the village, we recommend Sarmiento and El Flamenco Rosa.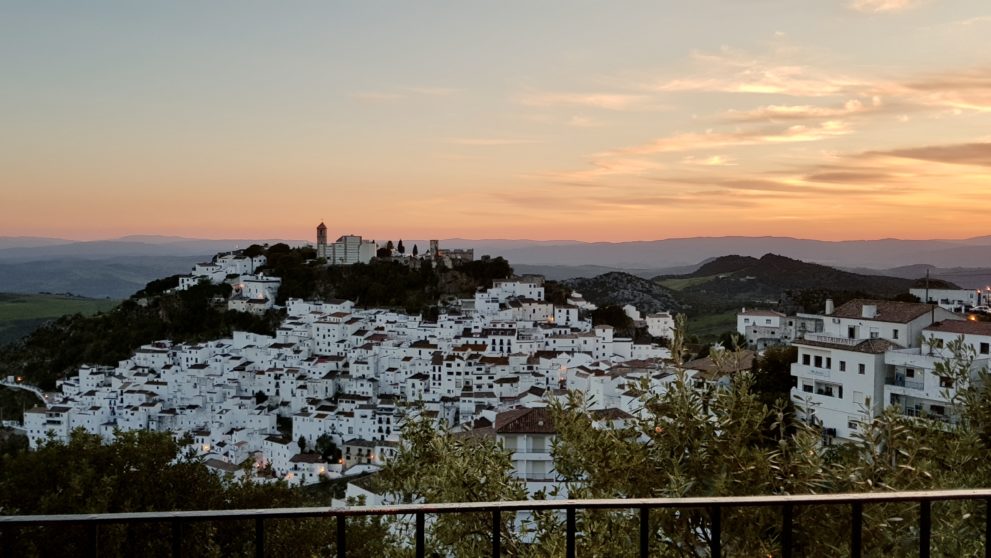 Properties near Casares
The main areas where we have country property for sale are:
La Acedía: A green oasis where we have a handful of villas and country houses. Scattered alongside the river and on the foot of the Sierra Bermeja, you have absolute privacy and magnificent views over the mountains. With reasonable flat land, it is possible to keep horses.
El  Jaral: A small community tugged away in the mountain. All country properties count with stunning views over the Mediterranean, the rock of Gibraltar and the Moroccan Coast.
Celima La Manga: Winding up the mountain you'll find houses, cottages, villas and estates of all sizes. Surrounded by cork trees and pines they all have amazing views, either over the mountain range or the Mediterranean, or both!
Sierra Crestellina: The houses and villas for sale in the Sierra Crestellina have breathtaking views over the village of Casares, the Mediterranean sea, Gibraltar and the African coast. The estates in this areas border the natural park of the Sierra Crestellina with a large population of deer, mountain goats, wild boar and vultures.
Los Molinos and Rio Genal: The valleys here offer large grazing areas with reasonable flat land that provide a good base for equestrian estates and cortijos. Furthermore, you will find vineyards or have the possibility to start your own.
If you wish to have more information about properties in Casares, click here. You may also contact us directly by calling +34 952 895 139 or by emailing info@villasfincas.com.
Danielle Ernstsen | 21st March 2023