2019 brings the 16th edition of Art Gaucin Open Studios. On the last weekend of May and first of June, visitors are invited to the "balcony of the mountains", otherwise known as the town of Gaucin. An opportunity to meet artists and see their work, enjoy a bite to eat and integrate into this wonderful community the event as created for almost two decades!
Art Gaucin Open Studios 2019 Edition
Art can come in many forms. Photography, sculptures, paintings, installations… The artistic spirit in Gaucin is in the air all year round, and once a year, they open their doors and share it with other art lovers!
The annual Art Gaucin Open Studios is an awaited event for people all over Andalusia, and even attracts overseas tourists. It is a chance for visitors to view the new pieces created by Art Gaucin's members. This year, it will be held over two weekends – the last weekend of May (24th – 26th) and the first weekend of June (31st – 2nd).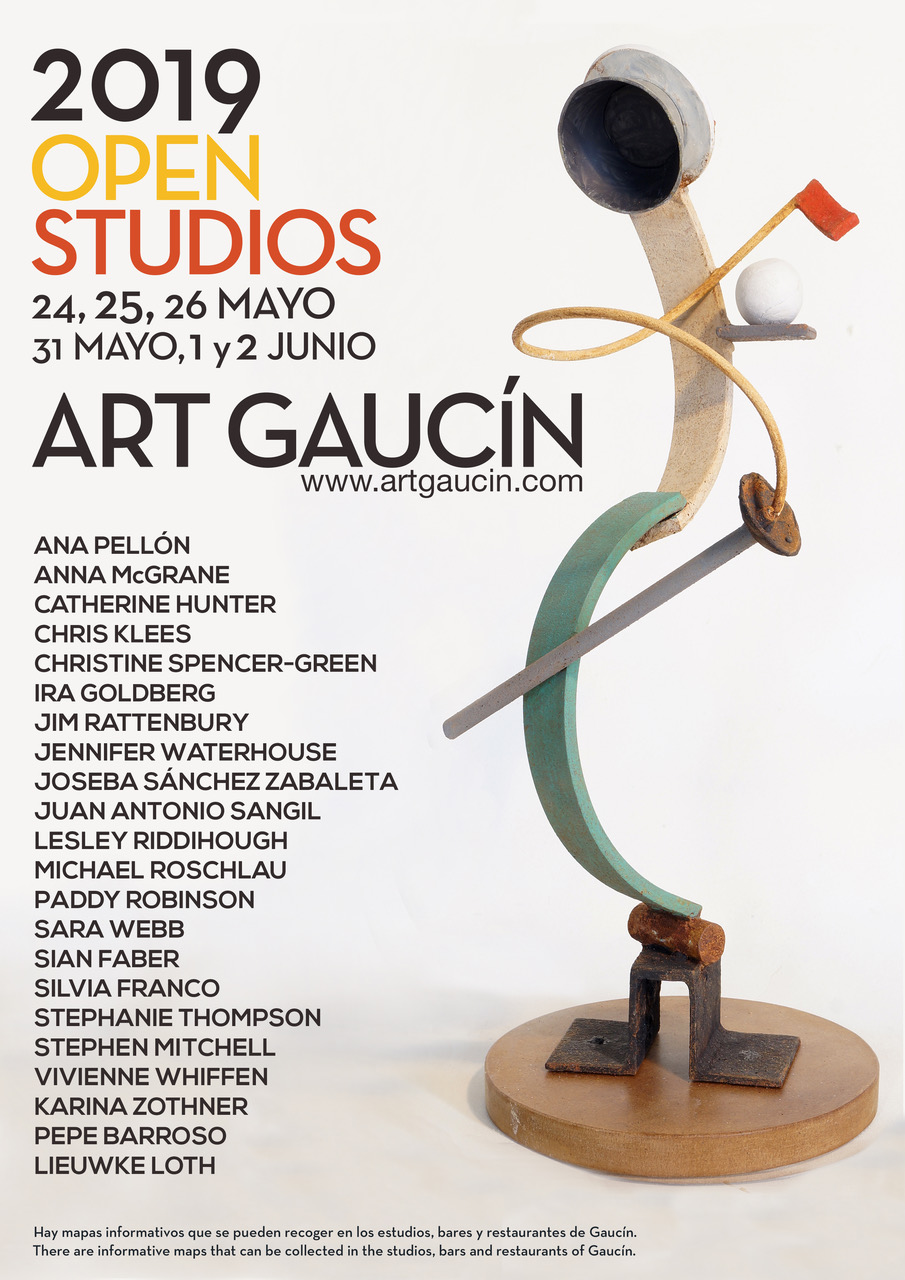 Gaucin – the perfect artists retreat
Art Gaucin has been up and running for over a decade, celebrating its 15th anniversary last 2018. It has built up a worldwide following, locally, around Andalusia and internationally! It is not surprising that Gaucin has been chosen as the location by many people, moved by the inspiration that this town disperses continuously. They have "followed their art" to this picturesque area of Andalusia, bought a property in Gaucin and taken advantage of its gorgeous surroundings. The spectacular ever-changing views of the Genal valley, Mediterranean coastline, Africa and Gibraltar. The surrounding mountains El Hacho and Sierra Crestellina. The light changes throughout the day, offering many different backdrops to this wonderful town. In addition, the wildlife and nature that Gaucin boasts from, vultures and eagles surrounding the castle, find wild orchids among the countryside. It's hard not to fall in love!
"The EARTH without ART is just EH"
What to see at Art Gaucin 2019
Amongst the cobbled and colourful streets of Gaucin are more than twenty different artists, who on these dates will be opening their studios to the public, to share their love of art with you. Discover different works, styles and techniques, from paintings and prints to ceramics and sculpture. To mention a few, long-established members include Jim Rattenbury, whose paintings and sculptures are in several private collections abroad. And Michael Roschlau, former Glasgow School of Art lecturer and artist whose works include lithographs, paintings and intricately detailed clockwork wall sculptures. Painters such as Joseba Sánchez Zabaleta, Ana Pellón, Sara Webb. Photographers such as Chris Klees and Vivienne Whiffen. There are also several ceramicists and sculptors in the group, including Juan Antonio Sangil, Sebastian Fisher, Catherine Hunter, and many more. Local artisans will also be showing a selection of jewellery, blankets and other handmade crafts.
For more information about the event, visit guides and contact details, please visit: www.artgaucin.com
If you enjoy Andalusia, art, delicious food, stunning views and nice company, this is definitely an experience not to miss!
Rebecca Marriott | 13th May 2019