The stunning beauty of the area, the tranquility and the proximity of the coast is what brought the owners of this country property to Casares almost 9 years ago. With 2 young children they made the decision to radically change their lifestyle, to leave the busy city of London behind to enjoy a more relaxed Andalusian way of life.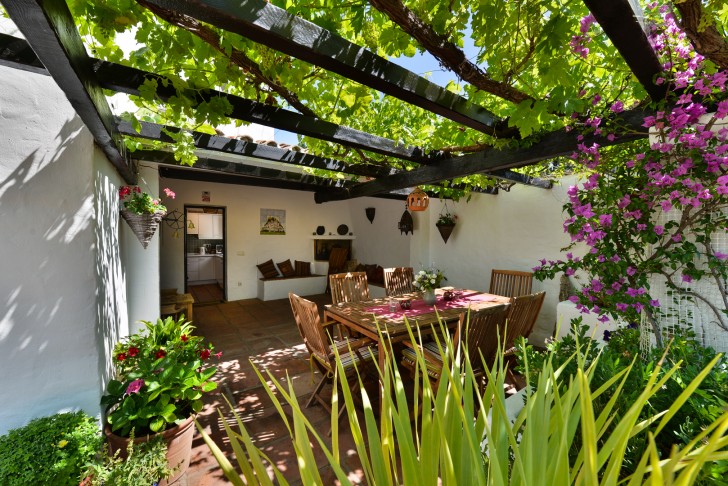 La Celima is one of the prime villa areas in the Casares mountains and the current owners of the villa 00196p instantly fell in love with it. Surrounded by pine trees, cork oak and wild olives there is no doubt that you are on the Andalusian countryside. Yet, from here you are only 10 minutes away from the hustle and bustle from the coast. This was imnportant for them. The children were going to attend the international school in Sotogrande and for work reasons they wanted to be near Gibraltar as well. Both are within half an hours drive. The proximity of Gibraltar airport made it possible to commute to London, doing 4 days a week in the city and 3 days under the sun in Andalusia. It was a perfect match!
Private yet not isolated
The other big plus of the area is that you can be completely private if you prefer so. No-one is looking onto your terrace or pool, you will only hear the bells of the goats passing by and the singing of the birds if you prefer so. There are neighbours in the area though, so if you are looking for company you can! There are several very good restaurants at the bottom of your mountain. Here you can enjoy a delicious meal and meet up with friends and neighbours for an enjoyable night out.
Why would they ever want to leave this paradise? With pain in their hearts the house has been put up for sale. For 9 years it has been the perfect family home, filled with many happy memories. Unfortunately new family circumstances has made them decide to go back to the UK. Life is like this sometimes. They can only wish that the next owner enjoys the house as much as they have done!
More information on this lovely villa can be found following this link.
Anita Schmidt | 2nd July 2014