Cazalla de la Sierra, a village located in the Natural Park of the 'Sierra Norte de Sevilla' , boasts one of the most enviable landscapes of the area. Living here means enjoying nature, strolling through the countryside, breathe in clean air, knowing that Seville is only an hour and fifteen minutes away. And there are manymore  reasons to buy a luxury cortijo or farmhouse here!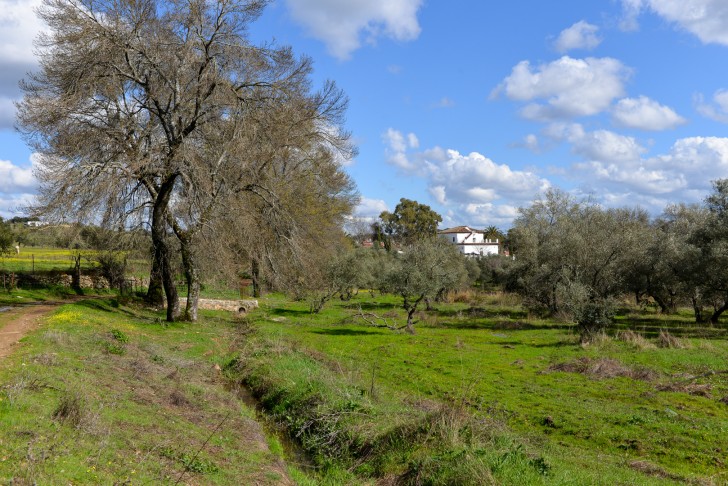 The natural setting of this area is breathtaking and it is not surprising that  The Waterfalls of  Hueznar Rivera  and the " Iron Mountain ", where you also can  practice rock  climbing, were declared Natural Monuments. The 'ruta verde' passes these two sites, using the old  track of the miners train. Furthermore we can highlight the extensive fields and meadows, ideal for walking or, if you fancy  hunting! There are plenty of possibilities for small and big game hunting. And last but not least we would like to mention the  spectacular lake " El Pintado ", perfect for boating and fishing.
Rich in history and known for its festivals
The Carthusian Monastery  is at only a few miles. In the old days the monastery was known for its wines, now it is in use as a hotel and a venue for celebrations. Other monuments worth mentioning are  the Church of 'Nuestra señora de consolación' (located in the heart of the town ) , the hermitage in the mountains, the Church of San Francisco ans San Benito and not to forget the different factories of liquor, known worldwide.  Call for a " CAZALLA " wherever you are and you will be served one!
One of the important yearly events is the pilgrimage (Romería) where the villages patron 'Virgen del Monte', is taken to the chapel located in the mountains at 4 km from the village. The whole village seems to be involved and is following the Madonna in  wagons , horses and cars accompanied by flamenco music and making several stops to sing and dance.  Next to the Romería, Cazalla de la Sierra counts with many more festivals and celebrations, to mention for example the Feria, the Carnival, the processions during Semana Santa etc …
Achieving harmony
The village itself is tranquil and peaceful. Its bars , the houses , the people, the whole atmosphere invites to relax and to enjoy. It seems as if there is a special connection to everything natural: olive oil , Iberian hams , the habit to stroll through the fields and collect walnuts, chestnuts, asparagus , mushrooms … endless natural delicacies. The Cazalleros are friendly and proud, they know how to enjoy life to the full and care for others. They benefit from the countryside  but always with respect. They truely understand the meaning of 'give and take' to achieve the perfect harmony.
Interested in buying property in the Sierra Constantina ? There is a beautiful luxury farmhouse for sale near the village . Find more information by following this link : 186- 00436p
Anita Schmidt | 24th March 2014