Many people in Northern Europe dream of giving up their busy lives and start something new, away from the crowds away from the daily stress. In this perspective we are often asked for a B&B,  Rural Hotel, country villa or cortijo for sale that could be converted into a lovely place to entertain guests under the Andalusian sun,  enjoying Spains relaxed lifestyle. It seems so easy, but believe me, it takes hard work and perseverance to make it a succes!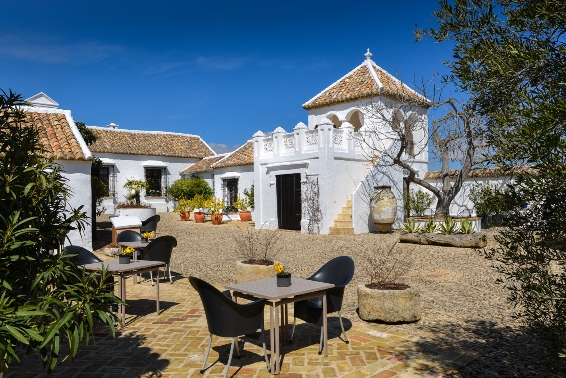 It takes more than the over 320 days of sun we have in Andalusia to run a successful hotel or Bed & Breakfast. What makes the difference we've asked ourselves? Why is the one more successful than the other? What makes a B&B in Andalucia tick? We've checked with some of our former clients who are running successful businesses now: What do they advise future clients to keep in mind? Two success stories we would like to mention in particular, Hotel La Posada del Angel in Ojen and Cortijo el Guarda near Ronda. Based on their stories we give you the top 5 rules for a successful B&B or rural hotel
Top 5 Rules for a successful B&B or rural Hotel
Rule 1: The purchase is only the start of your investment
Make a proper calculation of the complete investment you need to do, especially when you plan to 'do a property up'. A successful hotel asks for more than a new layer of paint or changing tiles in a bathroom. Even though the B&B may be 'rustic styled' your clients are asking for comfort, quality and well functioning services. If you run out of money and have to compromise in comfort, quality and service, you're busted!
Rule 2: Location, location, location
You might love a finca in the middle of no-where but do your future clients as well? Clients want to be entertained and you will have to provide this for them, in or around your B&B. Make sure you can offer a variety of activities, interesting places to visit, extra hotel services, cute wining and dining places outside the hotel. If it is not in place already, YOU will have to organise it. No-one else will do it for you.
Rule 3: Don't forget you're in Spain
Not only will 40-50% of your clients be Spanish (yes, don't rule out the local market!), you will also have to deal with Spanish suppliers, Spanish administration, Spanish builders, gardeners, cleaners, cooks. They will expect you to speak at least a little bit of Spanish. Knowledge of the Spanish language is a key factor to success!
Rule 4: Service Plus
We've seen that  offering just that little bit of extra service without charging money for it is another key to success. Do the unexpected! Keep your service level high! That is what makes the difference! Whether it is making internet reservations for the Alhambra or the Picasso museum, organising a taxi service to town, offering fresh fruit, it can be anything. Place yourself in the positions of your client and think what would bring a smile on your face, that is the service that will  be appreciated most!
Rule 5: Perseverance
Starting a business comes with ups and downs. Starting up a business in a foreign country can be even tougher, as is dealing with Spains burocracy! It is a challenge. The successful businesses are those that accept they have to adapt to the local culture yet never give up to reach their goals! Every hurdle has a solution. If you can't deal with it yourself, ask for help. Gestors and lawyers are used in Spain for more than just tax returns and conveyance.
Anita Schmidt | 22nd May 2013