A finca for sale in Andalucia. A luxury country villa peacefully hidden in the mountains. A spectacular property with sea views. When was the last time you came across such a singular opportunity? Dear readers, buckle up and read fast! The faster you get to the end of this blog the sooner you can contact us. This gem will be sold before you know it and we promise, you do not want to miss out on this opportunity. 
A succes story
Some years ago, a couple moved to Spain wanting to fulfil their dream of starting a Bed & Breakfast in Andalucia. Undoubtedly their hearts were conquered when they started to explore the area. The mountains and the landscape that Casares offers was exceptionally beautiful to them. After viewing different properties with Villas & Fincas, they knew that they wouldn't find another house that was as perfect as this one. They decided to name their retreat Kia Ora. For many years, the couple happily and very successfully ran a heartwarming and welcoming retreat in the mountains.
The time to say goodbye has come, and with good reason! A new adventure awaits this couple, which means that it is also time for a new succes story. Your succes story, perhaps. The story where you become the owner of a unique property in the Andalusian mountains and make your own dreams come true.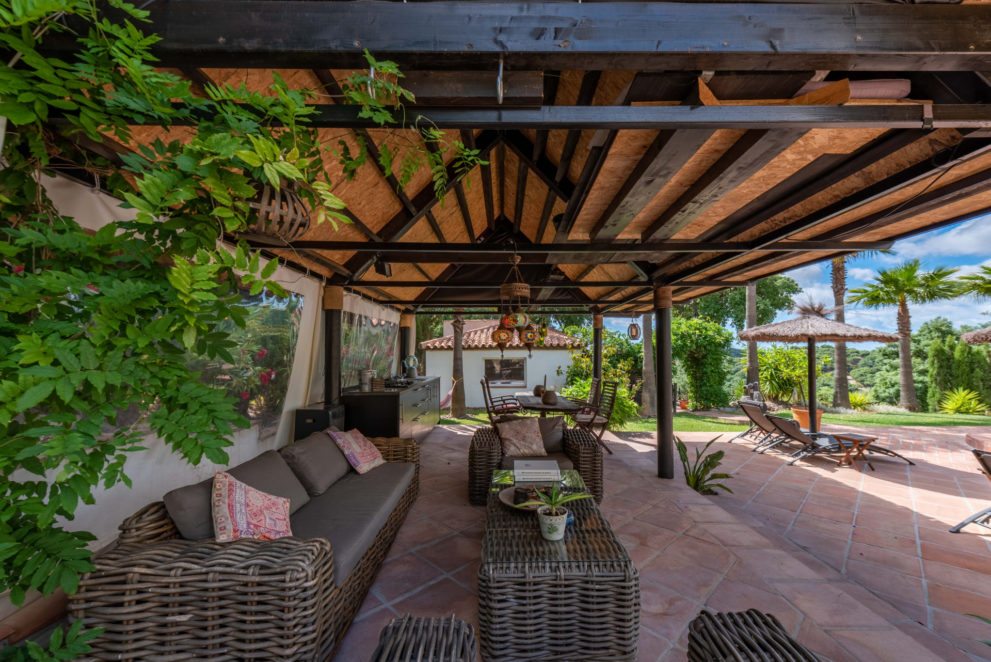 Finca for sale Andalucia
This country villa is unique for many reasons. Firstly, the location is simply breathtaking. Situated in the hills of Casares, this property is surrounded by a green paradise of 300 year old cork oak trees. This evidently allows for a tranquil and quiet lifestyle. Being immersed in nature makes one feel at peace. Secondly, owning a home like this one means you will have some of the most beautiful views Casares has to offer. A fascinating 180 degrees of views will offer the sight of endless rolling mountains and the spectacular contrasting colours of the red Sierra Bermeja and the blue skies. Moreover, the Mediterranean Sea and more often than you would imagine, the African coast. Knowing the distance between the continents is merely 27 km, makes you think you could touch another country and continent from the comfort of your own garden. There is no feeling more magical than this one.
To add to the magic, the design of the exterior will make you want to spend your time living outdoors. With much sun throughout the year, you will be spending lots of time by the terrace and the covered lounge. Here you can find an outdoor kitchen as well as a BBQ. Wining and dining with friends and family could become your new weekly routine. Finally, the mature palmtrees give this home a tropical feel, making you feel like you are always on a holiday.
Is this starting to sound like your new succes story, like your dream come true? Contact us today because this fantastic luxury country property is awaiting its new owners. Call us on +34 952 895 139 or email us directly to info@villasfincas.com.
Danielle Ernstsen | 28th October 2022