Gaucin is one of Andalusia's white villages hidden in the spectacular mountains. This picturesque little town finds itself in the Serranía de Ronda and has approximately 2000 inhabitants. It lies approximately 30 kilometres from the coast, at an hours drive from Marbella, 40 minutes from Ronda and 40 minutes from Sotogrande. Why do people want to visit and live in this inland village? Find out here!
Since a long time ago, Gaucin has frequently been visited by British families. In the last decades, Gaucin became an attractive spot for many different nationalities who toured around the area and decided they wanted to stay here. Is it the history? The warm and familiar culture of the villagers? Or perhaps its stunning natural setting? One thing is for sure, as you drive up and arrive to the village, the views will conquer your heart at an instant! You can look our out onto the Mediterranean Sea, the valleys and mountain riffs of the Andalusian countryside. Also the rock of Gibraltar and layers and layers of the Atlas mountains of Northern Africa. It is like nothing you have ever seen before, we promise!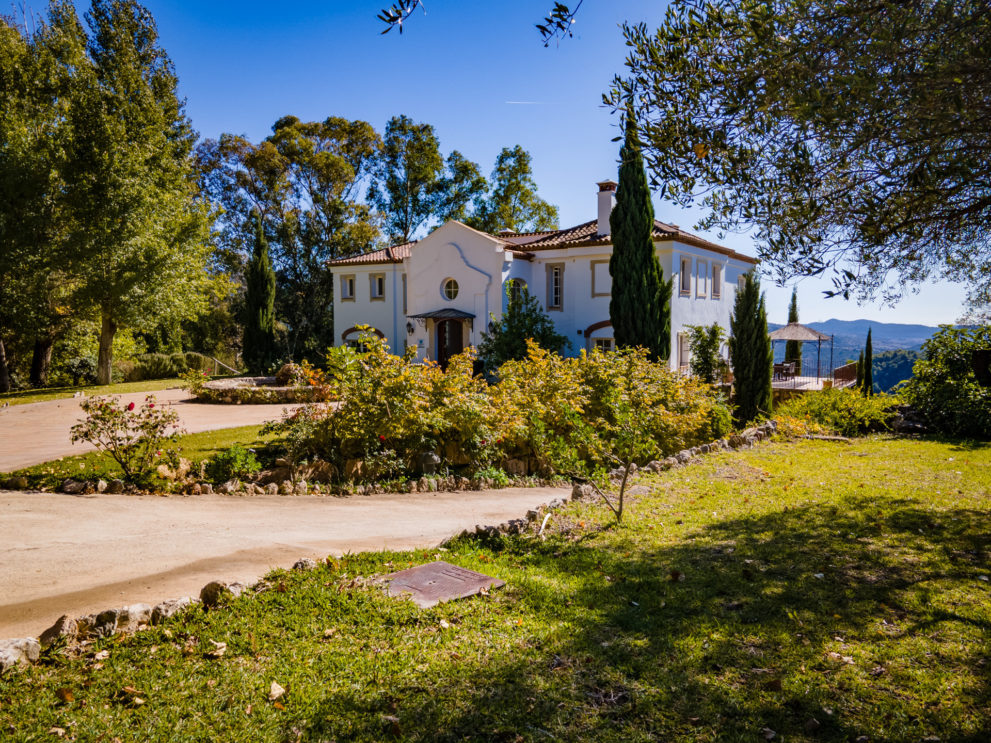 If owning your own hacienda or cortijo in Gaucin is your dream, search no further! Perhaps you want an equestrian country property, or a vineyard or olive grove? Gaucin has it all, she can make all your dreams come true.
Activities
Andalusia is known for having many dance schools where you can learn how to dance Flamenco. You can do this in Gaucín too. Given the stunning and diverse countryside, horse riding is a popular activity. If you are active but prefer to go on foot, there are numerous hiking routes you can follow. For nature lovers, the mountains around this are are a true paradise. Vultures and eagles soar the skies, wild orchids give an extra colour accent to the mountains… These are just a few features of the beautiful countryside.
Gaucin is also a fantastic are to grow your own vegetables. Perhaps a small orchard with fruit trees? Or a vegetable patch? There is nothing like making your Andalusian dream come true with fruits and vegetables from your very own garden!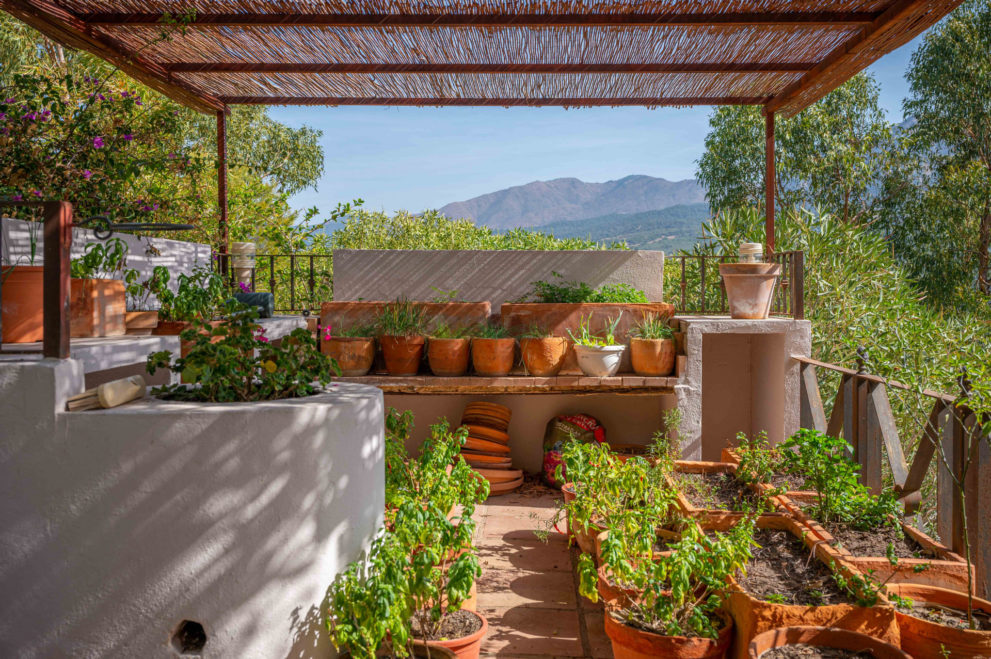 Gaucin's secret
The origin of this town dates back to the Roman period, although the Arabs ensured the true flourishment of Gaucin. The Romans built the incredibly fortress on top of the hill with defensive purposes. Due to its incredibly strategic location, Gaucin was actually one of the most difficult places to conquer years and years later by the Reyes Católicos. One place you must go visit is the Castle of the Eagle. Standing here makes you understand what life could have been like hundreds of years ago. Furthermore, it is the best place to watch eagles and vultures fly by. Sometimes they get so close you feel you might be able to touch them!
The second secret is most definitely her countryside. Nature here is so incredibly beautiful that it has become a popular place for artists from all over the world. Why do artists want to live in Gaucin, you might ask. The colour palette of the countryside changes throughout the day as well as the seasons. North or South, or East or West, Gaucin is beautiful no matter where you look.
Now that the village has become so artsy, that many art-aficionados want to live there too. There are numerous exhibitions, open studios, and galleries with pieces that now decorate people's homes. Of course it is possible to join a class so you can learn how to paint and sculpt too! The beauty of this area is that you can live in your private country estate, with the best views and have such a vibrant town in the nearby area.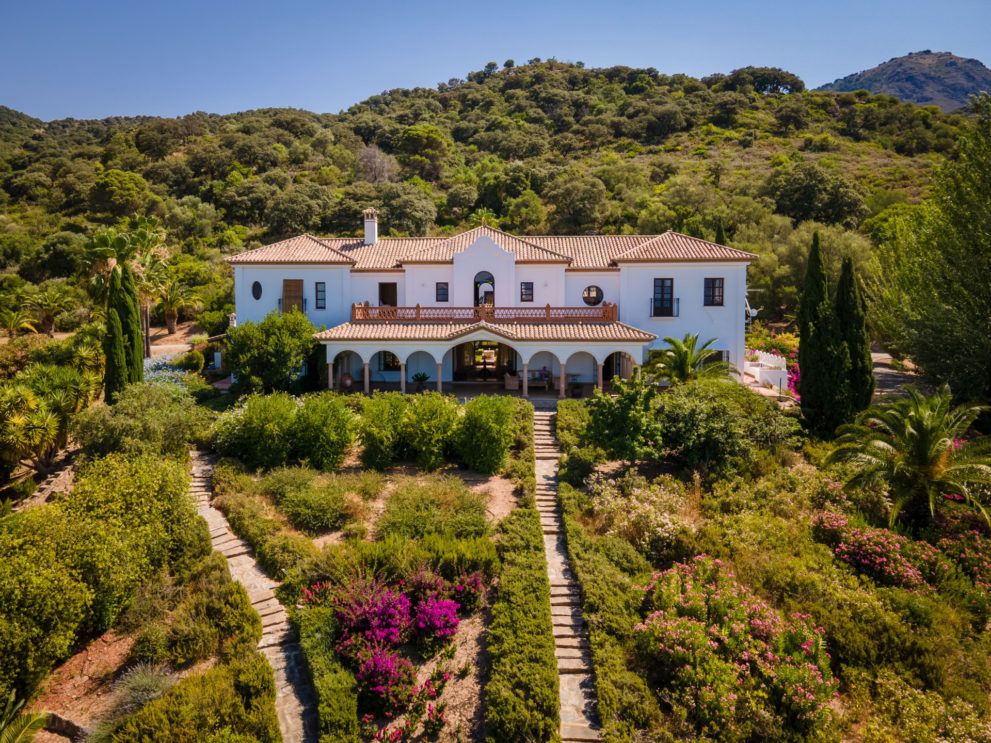 Facilities and services in Gaucin
The village of Gaucin provides in all your basic needs. You will find several small supermarkets, even an organic shop, a butcher who offers homemade chorizo and sausages, a baker and many mini markets with fresh fruit and vegetables. In the village you can also find a nursery as well as a primary school. For small emergencies you can always go to the doctor or the dentist in the town. For bigger emergencies, Gaucin has an ambulance service and the nearest hospital is in Ronda, at a 25-minute drive. It is a lovely village to wander around, to have a typical Spanish breakfast on one of the squares. Coffee and churros, or perhaps a colacao (hot chocolate) with a tostada con tomate y aceite (toast with virgin olive oil and tomato). The villagers welcome you in and make you feel at home.
For a little get away, Ronda is the nearest city where you will find everything you need. The coast is close enough where you can spend the day at the beach, or go golfing, go shopping or discover some fantastic restaurants! The nearest international school is also by the coast, in Sotogrande.
Wining & Dining in Gaucin
Around Gaucin, you will find several Ventas, local restaurants with excellent typical Spanish comida casera, home cooked meals. In the village, you can spend your evenings on the town square with an excellent choice of tapas, ham, cheese, ensaladilla rusa, patatas bravas… paired with a fantastic glass of wine. If you prefer a sit down lunch or dinner, there are two restaurants we would like to feature. They are Azulete and Platero & Co.
Danielle Ernstsen | 14th March 2023