This fabulous estate with large luxury villa and equestrian facilities is located on a large plot of over 70.000 m2 land at only a 10 minute drive from Marbella. The villa with stables has stunning seaviews and bounders the urbanisation Los Monteros Altos. A unique property for someone who wants to live on the countryside yet seeks the beach and the city of Marbella at easy reach.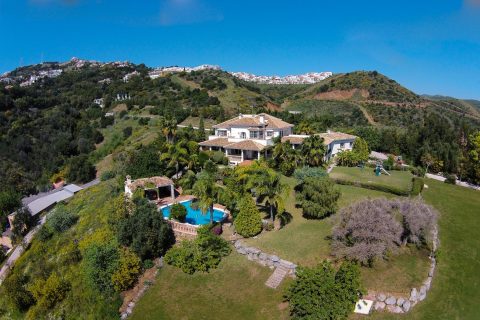 Quite often we get enquiries from clients to find them a luxury villa, close to Marbella, yet with sufficient land, stables and a sandschool, so they can combine their equestrian activities with living close to the international hub on the Costa del Sol. We are happy to be able to offer this property in Los Monteros Altos that ticks all these boxes. The property has easy access through a paved road and counts with an over 1000m2 built size house. The main house is foreseen with all facilities you would expect in a grand villa and has 5 spacious ensuite bedrooms. In the basement there is a seperate 3 bedroom, fully contained guest or staff appartment with its own entrance.
Villa with stables, and a 6 car garage
If next to horse riding you also like cars, this is difinitely your property!  There are stables for 4 horses, and a sandschool offers training possibilities. It would be easy to extend the equestrian facilities if necessary.  Next to this, the property has a large garage where you can easily park 6 cars. Not often do we come across a country property with access for low sports car. Here you can combine your hobbies!
Please do not hesitate to contact us for more information: info@villasfincas.com
Oscar Ernstsen | 12th April 2015