Antequera is a medium sized prosperous town located approximately 35 km. north of Málaga. It is a town rich in history and surrounded by stunning nature. Living here mean enjoying rustic Andalucía combined with the proximity of a vivid city and at easy reach of Málaga city with its culture, the beaches and the airport. We have some spectacular country property for sale around Antequera.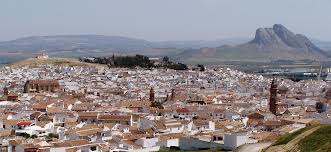 The city of Antequera has a lot to offer. Not only is it a nice and lively Andalusian town, it also has some interesting tourist attractions. The fascinating Menga Dolmen and the natural park 'El Torcal' are just two of the spectacular sites Antequera has to offer.
Facilities and Services in Antequera
Antequera functions as a main center for villages such as Villanueva de concepción and Casabermeja. The center of the town has some lovely squares and alleys,  also offering a nice shopping area. Next to a variety of boutiques, you will also find  interesting crafts shops and specialised gourmet shops with Málaga wines, olive oil and olives. On the outskirts you will find large supermarkets for your weekly shopping. Antequera has several doctors and dentists services and has a Hospital.
As to be expected, Antequera has  several primary and secondary schools. All follow the Spanish curriculum. The little villages around Antequera most of the time offer only a primary school. The closest international or private schools are either in Cártama or Málaga.
In the town a wide range of activities are offered including Spanish classes for foreigners, sports, gym and you will find many 'aficionados' with regards to archeology.
Wining & Dining in Antequera
I will never forget the first time we visited Antequera and had a typical Spanish lunch in Venta El Conejo. We ordered a dish of which we didn't have the faintest idea what it was. When our plates arrived it appeared we ordered soup containing trip!. I have to admit, we didn't finish our plate and since then we always ask for an explanation on the menu! With exception of this plate the food was delicious! The best rabo de torro I've ever had! Besides the excellent Ventas on the road towards El Torcal you will find some excellent restaurants and tapas bars in town who provide good food and a good ambiance. We absolutely loved Arte la Cozina.
What to do in Antequera
Better to ask, what not to do in Antequera! We already mentioned the Dolmen which is a must to visit. It will give you some insight in the history of mankind. This megalithic site is more than impressive. Do not forget to climb on top to see the famous 'Indian Head'. El Torcal is also a must. This Spanish version of the Rocky Mountains is spectacular. It offers short and longer walks to explore. Here you will find a list of the top 10 attractions of Antequera, including the Wolf park but strange enough not mentioning the Antequera Golf course
Anita Schmidt | 21st January 2014