The mountains around Casares  Andalusia are spectacular. It is such a stunning natural setting with a vast amount of cork oaks, pine trees and wild olives (acebuches). It is no wonder that the area has been declared to be of special natural interest by the Junta de Andalucia. The cottages, fincas and villas you find here scattered on the hill sides are unique! No more building is allowed. This time we would like to feature a spacious country home for sale that we have recently listed.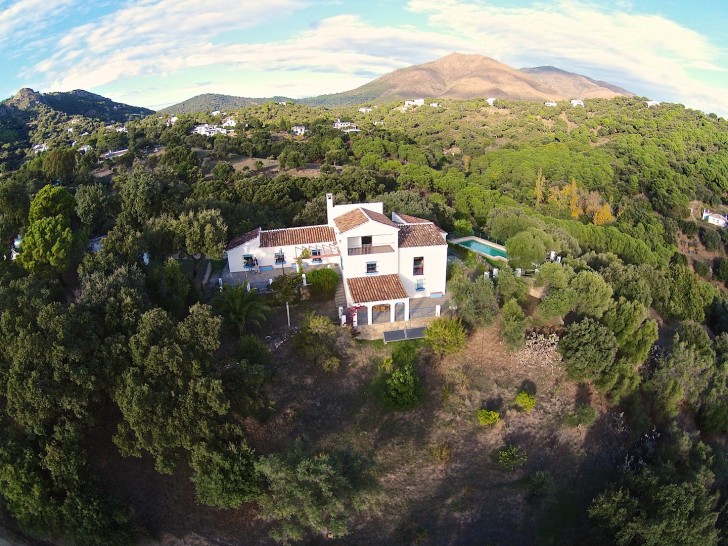 The current owners have bought the property almost 15 years ago. At that time it was still a small typical Andalusian finca consisting of no more than one room which was used as living, kitchen and bedroom. Very romantic and very authentic! Yet, a litle bit more space was appreciated. A licence was granted to extend the house with a kitchen. When in the years after the family was growing they applied for another extension license to accomodate the new family members. Over the years the house has been converted into a very comfortabel and spacious 4-bedroom country property. The area is ideal to live as a family with young children. The kids have been exploring the country side, were climbing trees and building huts. It has been a priviledge to have them grow up in this clean and fresh environment.
Schools
The children were going to school in Estepona. This was the easiest for the parents since they both worked there. Yet, the village of Casares provides a very good school for children up to the age of 14. Or, for parents who prefer international schooling, many families share rides to either the Sotogrande International School (25 minutes) or the Estepona International school (20 minutes). The kids brought back friends regularly. Often they decided to stay over or even camp to enjoy fully of the countrylife experience.
Time to move on
With pain in their harts they have decided it is time to move on. The eldest son is going to attend university next year. That's why the family has decided to move closer to the city. A new era will start for them with new experiences. They will defintely miss the tranquility of the countryside yet it is time to move on. They sincerely hope that a new family will find the same pleasure and joy they have experienced living here all these years. It is not just a house they are selling. It is the whole package! Being able to give your children the possibility to grow up in connection with nature, without fear, without polution or noise, yet having all the facilities and clubs at easy reach, is giving them the best of both worlds. lLease check for more information reference 186-00425p
Video of this Country Property for sale in Casares
Oscar Ernstsen | 29th November 2013