Not very often do you come across a property so beautifully restaured as this hotel in Vejer de la Frontera. It is finished with a splendid eye for detail, using only the best Spain has to offer with just one basic thought in mind: To ensure that customers will enjoy the welcoming, stunning and tranquil Andalusian setting during every single minute of their stay!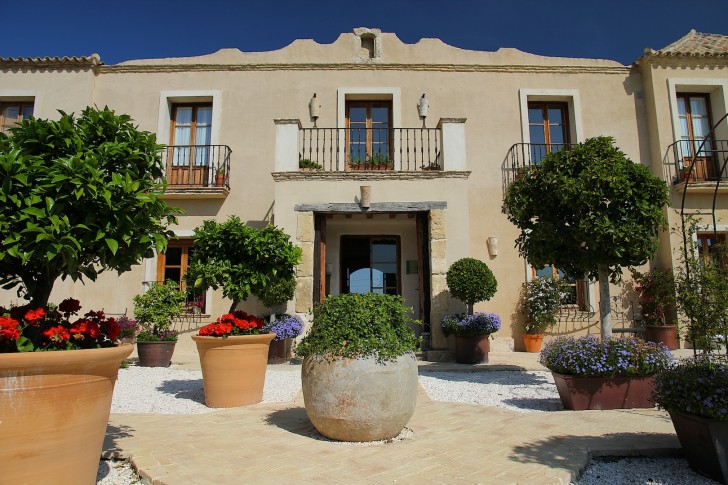 When the current owner started the renovations they have been searching for reclaimed antique materials they could use. Their intention was to maintain as much of the authentic charm of Andalucian haciendas and cortijos as possible. And that, without compromising in offering their guests todays comfort. You will find beautifull old studded wooden doors, waxed antique pine beams, original fire places but also comfortable underfloor heating for chilly winter evenings and airconditioning in the rooms to accomodate a good nights rest during a hot summer night.
Stunning natural setting
The beautiful Andalusian countryside is why they bought the it in the first place. The plot counts of 15.000 m2 rolling hills and is very suitable to keep horses. Furthermore it boast beautiful views over the surrounding fields and the 'monte baja'. The property has been designed to enjoy every single bit of this landscape and more. The garden is a delight. You will find yourself wandering through the lanes with olives, rosemary and lavender. The house wants you to make the most of this natural setting. French doors open to reveal tranquil terraces with fine views over the garden and the countryside by day. At night it is romantically lit. The 12 metre infinity pool is set amidst this spectacular environment.
For Sale
With pain in their harts the current owner has put this property for sale. If you are interested you will find more information on our website: property 186-00142P
Oscar Ernstsen | 19th June 2013