Andalusia is true paradise for the real horse 'aficionados'. In every town or village you will find an 'asociación de caballos' or in other words, a horse club. This is where the aficionados meet, show their (horses) capacities and ofcourse, dress up to participate in the special events during the year.
Thé event of the year is the  horse show in Jerez de la Frontera: La feria del Caballo , held this year from the 7th untill the 13th of May. This feria is held since 1824 and a must not only for the horse lovers, also for them who would like to experience a fantastic Andalusian party. A feria with several  shows and parades during the daytime, where people dress up and show the best of themselves and their horses and where partying goes on till the early hours. Not to be missed!
 Properties in Andalusia to keep horses
Every year we get lots of inquiries of clients, competing in either show jumping or dressage, currently living in Northern Europe but wanting to relocate to Andalusia. The climate here makes it possible to train outside all year round. And the competitions in Andalusia are challenging. Currently we have some interesting properties in our portfolio: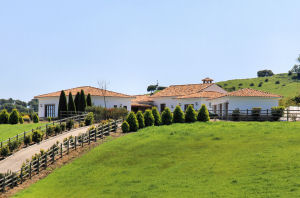 This fantastic 4 bedroom, 4 bathroom property, app. 300 m2 built size on a plot of 160.000 m2 is an absolute opportunity if your looking for a cortijo to keep horses. It is located close to the famous Montenmedio, has stables for 5 horses, menage and ample grazing fields.
The house is built to high standards and counts for example with a Clive Christian kitchen. The price has recently been reduced from €1.795.000 to € 1.295.000 for a quick sale. A truely unique property, ready to move in.
On the outskirts of the city of Seville, near the polofields, you will find this unique restored Cortijo. It contains of 6 bedrooms, 4 bathrooms, counts with a 800 m2 built size and a 72.000 m2 plot. There are stables for 4 horses and the land produces alfalfa.
Living here means combining your hobby on the countryside at only a 15 minute drive from the beautifull and lively city of Seville. You can only be so lucky once! This property is priced at € 1.400.000 . More info…
This Cortijo is located in Ronda de la Vieja, on a 10 minute drive from the city of Ronda. The cortijo consists of 4 bedrooms in the main house and 1 bedroom is the seperate guesthouse. It counts with a total of 373 m2 built size and the plot is app. 20.000 m2.
There are 4 boxes for horses, a tackroom and a picadero. The area around Ronda is stunning to discover on horse back. You can hack for days without getting bored! The property is priced at € 2.500.000. More info …..
Oscar Ernstsen | 9th May 2012