Benahavis is set in the mountains, at 7 km to the coast, between Marbella, Estepona and Ronda. It is one of the typical white villages of Andalusia, with a remarkable arab past. Like in La Zagaleta and El Madroñal, we also have fantastic villas and chalets for sale in Benahavís.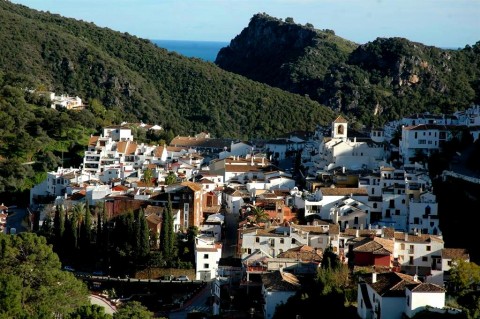 Among its historical monuments include the Vigía Towers and the parish "Virgen del Rosario" ( church. Also, a 16th century palace and, the Montemayor castle. Here you can enjoy spectacular views of the Costa del Sol. Benahavís is traversed by three important rivers, Guadalmansa, Guadalmina and Guadaiza. Among its festivals are the feria and the Romería. The five day "feria" fair takes place between 11th and the 15th August. There are children's activities and rides, lots of food and drink, traditional mass and a procession. The Romería (pilgrimage) is on the 7th of October, and also includes a procession and typical food and drink.
INSTALLATIONS AND SERVICES IN BENAHAVÍS
Benahavís has 9 golf courses on its municipity and a wide range of other services, such as: hotels, equestrian centres, sports installations and all types of shops (dry cleaners, decoration shops, furniture shops, bakery, jewellers, supermarket, etc). It is only 15 km from La Cañada Commercial Centre, the biggest in the area. It also has two important residential areas, La Zagaleta and El Madroñal, where you can find magnificent, luxury properties in the upmost of privacy.
WHERE TO EAT IN BENAHAVÍS?
Lovers of good cuisine will discover a paradise in Benahavís, known as "the dining room of the Costa del Sol" for its multitude of restaurants and bars. Walking through Benahavís' streets you will come across dozens of cozy restaurants with a good atmosphere. Most of these restaurants offer typical, home-made Spanish food. What generally characterizes all of them is a good quality-quantity-price ratio. Among them you can visit Los Abanicos and taste its famous leg of suckling lamb.
WHAT TO DO IN BENAHAVÍS?
Guided bike tours around the town, it is also an ideal place to go hiking, horseback riding and for the more daring, practice canyoning in the Guadalmina River. All of these activities are enjoyed in an exceptional environment, in the heart of nature.
Rebecca Marriott | 20th November 2017